So, in the ten years I've been writing pony fan-fiction, I have had a persistent dilemma: I love sci-fi, but the MLP universe is intrinsically a fantasy setting. Many noble stories have bridged that gap, including some of my personal favorites (Kkat's Fallout, Iceman's Friendship is Optimal, and Arad's Stardust, as a small sampling). But except for a few scraps in my short story collections, I've never tried to write a true Science Fiction story myself.
Well, that ends today. Many of you who've been reading my stuff for a while might know that I'm a big believer in the use of contests to spur productivity, and it would just so happen that Bicyclette is holding a Science Fiction contest that wraps up Jan. 6.
On the very last day of 2021, I'm happy to publish my first new story of the year: Refraction's Edge. It has everything I've always wanted to explore with science fiction – spaceships, alien ruins, strange planets and friendly AIs that nevertheless have their own agenda that may or may not overlap with yours. And I get to do it all with my favorite subject: ponies!
Refraction's Edge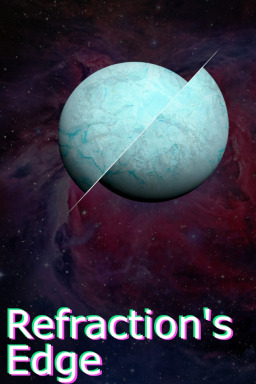 Zenith would give anything to find her lost sister Nadir, who vanished in the depths of space long ago. And now, after decades of suspended animation, she has finally located Nadir on a strange planet haunted by alien ruins, far outside known space.
It's lonely out there, but Zenith has company – six personalities simulated by her ship's AI. And she'll need every ounce of help Twilight Sparkle, Rainbow Dash, and the others can offer, for Lapis is a more mysterious, and dangerous, planet than she could ever have imagined.
Incidentally, I'm also pretty happy with how the artwork turned out. I'm currently vacationing for the holidays and not able to use my normal computer for art, but I was able to put something together with GIMP and this laptop.
I know I haven't been as active on this site as before, but I am still very much a part of the fanfiction community. I hope all of you who have a similar love for adventure stories, science fiction and ponies will give Refraction's Edge a chance. It's been a while since I had this much fun writing a story, and I hope you'll enjoy reading it too.