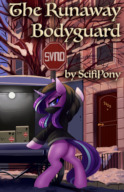 Quick, go read chapter 58. It's 6,144 words; it'll keep you entertained curled up in front of the fireplace. Starlight gets a job offer and realizes she is naked in one pony's eyes. Next: While fixing up personal problems with her team that Carne Asada caused, Starlight realizes why she hates Celestia so much.
Publication note: The chapters from here are out will be large on average. The last chapter that I went to the trouble of breaking into subchapters, 60-62, I am going to release as three chapters on the same day with the title Viva Las Pegasus. Snafus do happen, like the one on US Thanksgiving Day, but baring this, the story will be complete first thing in January. 50,000 words to go!
If you like this new format and you like what you are reading, comment and upvote. It's what gets the attention of the readers not as fortunate as you and brings in the readers.