It's takes a lot to get me angry, believe me.
Even mildly hot under the collar ain't my kinda shtick.
But when my story Twilight's Diamond Daughter was sitting pretty at 100 upvotes and 5 downvotes and is now at the grande total of 144 upvotes and 15 downvotes a few weeks after publication (that's 44 upvotes and 10 downvotes in a short period of time, to the uninitiated), I can't help but feel somethin' screwy is going on.
I know, I know. I said this kind of stuff doesn't bother me. I have 322 people who follow it, I write for pleasure not kudos, I'm grateful that it's got so much attention when other fics barely get a percentage of this one's views, and so on and so forth...
Well, guess what ? I LIED.
I LIVE for upvotes. I WORSHIP them. I've discontinued stories I was enjoying writing in a heartbeat, because I didn't think they were getting the acclaim they deserved. When you add a chapter you think is one of your best, only to be 'rewarded' with diddly squat but negativity, well... it does kinda sap your enthusiasm to put in any more work.
(At this point I'd like to sincerely apologise for reminding everyone of that horrible Emoji Movie receives disturbing flashbacks of James Corden making 'hil-ar-ious' high-5 jokes. Anyway, moving on... )
And when you start getting more downvotes in a month than the vast majority of most other stories, despite universal praise in the comments and plenty of followers enjoying it, you begin wondering if someone has an agenda.
Could it be... demonic Silver/Diamond shippers who won't stop messaging me about their favourite romance not being included? (Just because the pair are tagged in the description doesn't mean they'll hook up together, ya know.) Maybe a few bronies hate the idea of Twilight being a mother (what's wrong with that)? Perhaps there are some domestic abuse survivors out there, who feel triggered by some of the themes on display here (For which I'm very sorry, but why take it out on my innocent fanfic)?
Whatever the reason for this cascade of downvotes, and you'll forgive me a bit of ego-stroking here, it's perfectly evident to me that THIS STORY DOES NOT DESERVE HALF OF THEM. Half maybe, but 15? Nah, now you're just taking the piss.
I am aware that half of 15 does not equate to a solid number. Round it up to 7 or 8, I really don't care.
The spelling is good, the grammar is fine, none of the characters are OOC and the content is obviously some of my best. So either a) There's some people out there with seriously bad taste or b) Someone is downvoting the thing for the hell of it.
Category a)... PLEASE tell me what's so bad about this story that it deserves to get the same kind of ratio as vore, foalcon or 'My Little Dashie' inspired fics. Please. I have all day.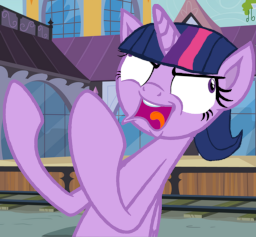 And anyone who falls into the b) category can go fuck themselves. Seriously. (If you only knew how rarely I swear, you'll know what a meaningful statement that is).
In any case, it doesn't really inspire me to continue much on with this story that I'm putting so much time and effort into, if this is the kind of shoddy treatment it's going to get.
So in answer to the many queries I got both privately and on my profile: yes, I was aware my story went 'walkabout' yesterday. That's because I withdrew it from this website after getting ANOTHER downvote around an hour after the publication of the latest chapter, and ANOTHER two stupid shipping queries via PM despite CLEARLY asking not to be sent them in my author's comments.
If putting my all into a project is being reciprocated by being 'put through the mill' (It's an English expression, look it up, Genius) then I don't think I'll bother.
And for those who think I'm being completely over-the-top in my reaction, who think less of me for making this an issue when there's far worse problems out there, that's absolutely fine. But this is my blog, this is my rant and I'm entitled to vent my honest views dagnabbit!
I am also very aware that once I reupload this story (more on that in the next few paragraphs if you can hang on that long) it may 'inspire' a whole mess of new downvotes to the story, in 'retaliation' for what they regard as a blog post of the ultimate pettiness.
Well if you want to do that, be my guest. If it brightens your sad little day, more power to you, you insignificant birdbrains.
Just be aware in the long run it won't make you any happier, the people who enjoyed reading this story any more pleased when it's discontinued, and you'll be justifying this post's existence 100% in all the points it makes.
I don't have to do this kind of thing, you know. I have a new PS5 I've barely touched. I have two new boisterous kittens that are desperate for more playtime. I don't do commissions, ask for money or earn one red cent from any of the stories I write.
Basically, what I'm saying is: I don't owe anyone anything. I could leave this site tomorrow and continue writing under another username for other fandoms in other platforms, and not bat an eyelid.
Just bear that in mind. And yes, by doing that I also realise that I'm letting the 'haterz win'...
...Except, they're not. There are many other things I could do with my free time besides this, and they may even be more fun and fulfilling. I may only come here regularly because it's an unhealthy addiction I haven't been able to break for seven years (like white chocolate).
Who knows, once I quit I might just find that life so less stressful and frustrating I'll wonder why I didn't leave ages ago. Guess I can always find out.
So, finally (to all who managed to last this long without skipping to the end, give yourself a gold star 🎖. Or, a Pinkie

) I will reupload my story right now. I wrote a new chapter for it yesterday: Enjoy!
Just be aware that it might be the very last one, depending on the kind of response I get from now on. If I get tons of unwarranted and undeserved downvotes, hardly any upvotes and lots more irritating correspondence about foal-shipping, into the metaphorical bin it goes (dumpster for you uneducated Yanks).
But if all the tiresome bullshit stops and it actually starts getting the numbers it truly deserves, and the weirdos stop lining my inbox with their perverted spam, who knows what the future holds? I may upload faster, longer chapters... and I have some GREAT ideas... it would be a shame to waste them.
The decision, as they (who are 'they?') say, is in your twitchy arthritic hands. Hope you make the right one.
And as for for this aggressive, irrational, confrontational blog that may destroy my reputation overnight, I offer up some lyrics from my second favourite Police jam. (Sorry, NOTHING beats Every Little Thing She Does Is Magic)
I guess you'll call it suicide, but I'm too full to swallow my pride.
Peace (to most of you, not everyone. You know who you are).