In honor of this day, I got the wife a small box of chocolates, I'm getting you some shameless self-promoting story plugs, and I got myself some needed time working on cleaning up my older stories. Oh, and Iisaw put together a cover for my Bronycon Bookstore double-story entry, which I'm listing next:
The One Who Got Away
— When Gaberdine is awarded a noble title by Princess Celestia, he soon finds out that his new lands contain several surprises. For starters, there is no land in his new barony. Secondly, his new castle turns out to be a broken-down riverboat. And third is… seaponies.
Baron Gaberdine has a lot to learn about his new barony. And himself.
Fortunately, he has a very young teacher.
Drifting Down the Lazy River
— A frustrated young orphan colt with a talent for painting is determined to run away from his dead-end rural village for the distant cultural haven of Baltimare. All he needs to do is slip aboard a raft and drift down the river Fen until he reaches his destination. It's a simple plan, and would have worked just fine except for one thing.
Seaponies.
And the original that started it all, the Traveling Tutor series, from meeting to romance to childbirth.
The Traveling Tutor and the Librarian
The Traveling Tutor and the Diplomat's Daughter
The Traveling Tutor and the Royal Exam
Twilight Sparkle was quite positive she could handle the job of teaching young unicorn students in Ponyville how to handle their new magic, but when the school's traveling magic teacher returns to town as scheduled, a series of miscommunications and accidents nearly drive the two of them crazy. Only the power of friendship (and a certain amount of tinkering from the townsponies) can save the day for them and their students before complete disaster strikes, but over the course of three stories, we find there is a lot more than friendship in store for the two young teachers.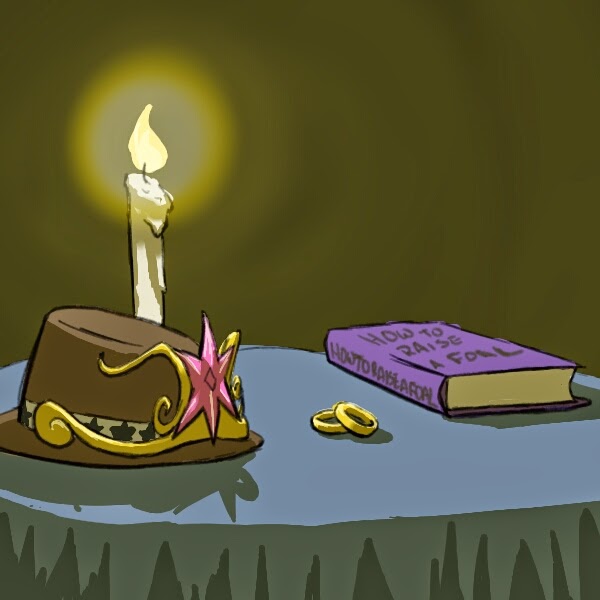 A sneak peek at the upcoming paper copy of The One Who Got Away/Drifting Down the Lazy River, courtesy of Iisaw.