Well an, almost-new Chrisfic, if you read it during the past week or so, while it was part of the Jinglemas post.
Anyway, yes, I just published my Secret Santa entry as its own piece: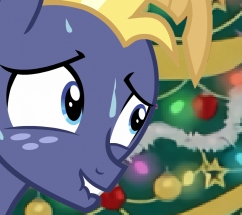 After going on Iron Will's Cruise of the Princesses, Star Tracker finds himself in the awkward position of being an honorary former member of the Sparkle family. Hearth's Warming is just around the corner, and gift-giving is tough when you're not even sure if the person you're buying for counts as a sister or a stranger. What's a colt to do?
Overthink it, of course.
It's a simple little bit of light, friendly comedy, about a minor S7 character (from the episode Once Upon a Zeppelin, if you're not placing him immediately) and his relationship-or-lack-thereof with the Sparkly family. Publishing a Christmas Hearth's Warming story four days late, on a day when a few dozen other Jinglemassers will likely be rushing to publish their one-shot holiday fics, probably isn't the way to maximize exposure, but I don't see any reason to sit on this: it's a very straightforward, uncomplicated fic (which is not to say I think ill of it, or else I wouldn't publish it. Just that it's not the kind of story full of hidden depth), and while I did make a couple of editing/smoothing tweaks from the version posted in the collection, I don't think it will benefit from me batting it around for a few more weeks/months. So if it's already in its final form, why not just go ahead and share it now?
Give it a read. Leave a comment. If you don't think it's funny, drink carrot eggnog until you start laughing. And have a happy New Year!