(TL;DR - I'm sick, but you should join Jinglemas. You might get a gift story written by me! Hoping for S:A update next week)
Hi, folks,
Sorry I've been pretty quiet lately.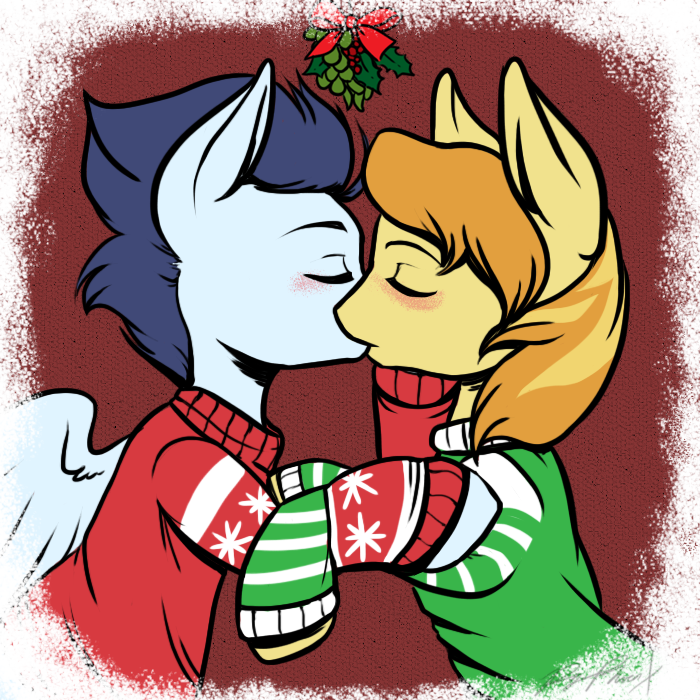 Have some festive horses as an apology.
I'm the sickest I've been in years. If you're curious, here are some similes I came up with to describe it (warning: a bit gross):
--The roof of my mouth feels like raw hamburger
--Everything tastes like it's been boiled in rotten blood
--You ever played Goat Simulator? It has some protesters with signs that say "No pointy food!" That was me. I was in that game. All food is knives.
I've seen a doctor. It's viral, so I have to just ride it out, but for the next 7-10 days, I'm going to be fighting a fever. Yay.
But that's not going to damped my holiday spirit! This year, I'm doing Jinglemas again this year. Here's the gist:
--It's a secret santa exchange, but rather than buy gifts, we write stories for each other
--Joining is easy: you read the rules here
--With your submission, you get to pick with pony (or ponies) you want the story to feature
--On December 1st, you'll get a PM with the person you're writing a story for
--Write a 1k-5k story between December 1st and December 21st.
--Stories are posted on the 22nd
I've done this twice before (here's my story from last year), and it's a lot of fun.
Finally, I've got Chapter 3 (and about half of 4) written for "Sensation: Appleloosa." My hope is to type up chapter 3 and post it next week after some edits. I hope you'll enjoy it.

Festive Horse is giving you the eyes.
~Vivid