Seattle's Angels is a group that promotes good stories with low views. You can find us here.
---
PaulAsaran sat in his office, Intern seated across from him. A stack of completed review papers lay between them on Paul's desk. The two stared at the pile as though expecting it to get up and walk on its own at any moment.
Given the things the two had already experienced working for the Angels, that possibility wasn't being ruled out.
"So… we going to just sit here and wait until it's time to hand these in?"
Paul flicked his gaze briefly from the reviews to Intern, then right back again. "If that's what it takes."
Groaning and pinching his nose, Intern said, "You know, we could be doing anything else. Hang gliding, playing games, getting outside, explore the terminal. Not all review posts are eventful."
Paul shook his head. "The moment I do anything beyond staying put and watching over these reviews, the moment something will happen that will push us back and miss the deadline. I will NOT jeopardize the deadline."
"Jeez, miss a few dates and now everyone's a stickler for the rules." Intern stood up and stretched, several joints popping in protest. He reached into his pants pocket and pulled out a rectangular device. "Let's just skip ahead a bit, why don't we?"
He pressed down on the fast forward button.
---
When Adagio turned up shortly after the Battle of the Bands with apparently no memory of ever being a siren, Sunset wasn't convinced right away. But since then, she and the former siren have grown very close and carved out new lives for themselves. They're stable, and happy with each other.
Until Adagio starts remembering.
---
Don't you just hate it when you have a good thing going and then the past comes back to bite you in the butt? That's what Sunset and Adagio have to deal with in this drama of sins best left forgotten.
What's interesting here is the take on Sunset herself. She comes from a place where she knows that the past can be hurtful and hold you back. She's moved on and tries not to let her past define her. However, not being allowed to remember the past can be just as destructive. How are we supposed to grow if we can't learn from our mistakes?
It's a fascinating look in how nature and nurture collide and poor Adagio is caught in the crosshairs. Her struggle of processing all that's happening to her along with her feelings for Sunset war with each other throughout.
And you'll just have to check it out to find out how she manages it all.
Ouch.
NaiadSagaIotaOar strikes again with their (presumed) OTP, but this times not all is bright and shiny in SunDagio Land. The story leans on a lot of heavy themes, most notably that sometimes what we think is the 'right thing' is being done for all the wrong reasons. Sunset's desperate efforts to protect what she's found in Adagio are heart wrenching, especially as you know as she's doing them that she's making serious mistakes. The biggest tragedy of this story, at least to me, is the understanding that despite everything, Sunset really hasn't changed as much as everyone thinks.
This is a powerful tale about a house of cards finally collapsing. If you're one for sadfics, this will definitely be for you.
---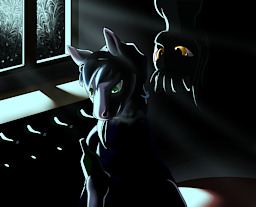 STORY 2
Effigy of Anarchy, by SaltyJustice
In the dead of winter, Flitter fails to return from an evening out in Trottingham. Convinced that she's more than just 'lost' and without any clue what to do, Cloudchaser calls upon the only pony she knows who could possibly help: Her old friend, Silent Rivers.
It is not long before events spiral out of her control, and she questions the allegiances she thought were solid mere days before.
---
This one hooked me early on and didn't let go until the final page. Equal parts thriller, horror, and mystery, this was a delight to get through. Not only that, it prominently features pegasi, a criminally underutilized race in our fiction. This is something that stories like these corrects in glorious fashion.
Our leads are Cloudchaser (another underutilized character) and Silent River, who set off to find a kidnapped Flitter. This event kicks off a growing plot that escalates higher and higher, forcing Cloudchaser to do things she never considered doing in hopes of putting things right.
The highlight of the story though is Silent River, an enigma from Cloudchaser's school days. She's a for hire investigator, however her motives don't always seem to match up with Cloudchaser's goals. And the more we learn of her, the more uneasy it is to be around her. Cloudchaser does what all ponies do and tries to be a good friend, but Silent River strains those bonds to the very limit.
Unfortunately, the rules state we can't link to this mature rated story. A search for the title should be enough. And you should, because it's worth it.
I read and reviewed this once already back in September. It was such a solid and memorable story that I didn't have to read it again to know what I wanted to say here. But I still did, because it's a solid and memorable story. A mystery, an adventure, the dark underbelly of Equestria, the character growth of Chaser, a study of the value of emotions, a dramatic final confrontation. This story has so much going for it.
And it only just managed to get enough attention to make its upvote/downvote ratio public. That this story still doesn't have more than 200 views is a crime against literature. I have never seen a more undeservedly unknown story.
Don't let the fact it's rated as Mature deceive you. Frankly, I think it should have been rated Teen. Perhaps the author was just playing it safe? Whatever the case, while it can be violent and ponies do die, I've seen far worse. ...okay, that doesn't say much, because I've read some pretty horrid stuff, but still! If you're uncomfortable having to turn off your mature filter just so you can read this story, I assure you it's worth it.
---
Apple Bloom wants to learn more about her parents' life story after their marriage, and Volume 138 of the Apple family history provides the answers. But not the ones she wanted.
---
Family matters are rough. They hit close to home (literally) and it can be hard to talk about the things we'd rather forget. The pain can be too much to remember, even as we try to recall all the good things that are worth preserving. The Apple family knows this all too well and it's time for the youngest member to learn it too.
Apple Bloom asks the question all the other members of her family were dreading. What were her parents like after they married? She knows the history before and now she wants to know what came after. Her older siblings and granny decide to tell her and with it comes some harsh realities of the world.
It ain't all bad news though. Sprinkled in are times that she was a part of even if she doesn't remember them. And they were good times. Those are the parts worth keeping.
So take a look and see how one author's interpretation of Bright Mac and Pear Butter's closing story could have gone. Perhaps it'll give some closure on the whole Apple family history for you too.
Well, that was a tearjerker.
While the topic of this story isn't new, Pony Thunder works it to great effect. Here we get to see the part of Bright Mac and Pear Butter's lives that was too mature for children's television, and particularly how that affects Apple Bloom. I didn't expect this to hit me as hard as it did, but… well, here we are.
A sad, but ultimately uplifting, tale about a pair of ponies we all wish we could have known better.
---

STORY 4
Violet Blues, by Snowybee
Valley Fern is some songwriter. He likes to hide behind a pseudonym, so he may as well be a nobody when you happen to meet him. He's a little disagreeable, but he loves life.
In an attempt to escape the darker parts of that life, he just moved into Ponyville last week. On a day like any other — it's a little chilly for Summer — he meets a lady named Rarity. Before he introduces himself, she knows his name. Before he goes about his business, she's one step ahead of him.
Had they met before?
---
Oi. Talking about stories like these is always a minefield because there's so much I could talk about that would give too much away. So let's see if I can tip-toe around the explodey parts.
Valley Fern seems like your typical pony. He has a talent that he's very good at but now he's ready to settle down a bit and relax. What better place to go than unassuming Ponyville? Well, if he had read the brochure he might have had second thoughts. Especially when this odd broad starts talking to him as though she's known him for quite some time.
I love the way the story plays out as Fern slowly learns more and more about the situation he's caught up in. This also is a great character defining piece for Rarity, who's patience with dealing with Fern knows no bounds. She's perfect here and I want you all to go read this to find out why.
So yeah, go do that!
Ah, I have fond memories of this story. Much of it centers around cranky old Fern trying to figure out why this mare Rarity, who he's never met before in his life, seems to know everything about him. Clues are seeded everywhere so that we are always aware that something is wrong with this scenario. The conclusion is a wonderful Rarity moment.
And I'm always approving of good Rarity moments.
Another great story from one of FIMFiction's more underappreciated authors, it deserves all the featuring it can get.
---
Intern hit play, putting time and space back at its original speed. "There. We're finished. And look, nothing bad happened."
An explosion could be heard somewhere off in the distance.
Paul narrowed his eyes. "You just jinxed it."
Intern waved him off as he headed for the door. "Whatever. Our part's done. Let the next posters deal with it."
---
Feel free to visit our group for more information and events, and to offer some recommendations for future rounds. See you all next time!