Or, what has the Admiral been up to the last couple of weeks?

Source
'Cause I'm sure y'all have noticed that the blog posts and story updates have kind of dropped off during the second half of October.
---
Well, I've been busy. So busy in fact that I haven't even had time to do a long, ranty blog post about my boss's pure genius--he explained to me a while back how Sweden is an island, for example. I said that it wasn't, that it was on a peninsula, and he said that peninsulas were like islands . . . which I guess means that the state of Michigan is an island. Well, two islands, really. The point was, he assured me, is that Sweden is surrounded by water on three sides.

Source
On top of that, we've had one of our best Octobers ever at work, despite the owner playing three card monte with everybody's cheese. At the beginning of the month, he finally heard our pleas to get a second mechanic at the shop, because we were simply swamped with work and couldn't keep up with it. We'd sometimes have a car for a week before it got looked at or worked on.
So he loaned us one of his guys. They weren't too busy over there, apparently, and with that guy we managed to get caught up for once. That was nice while it lasted, but then one of his other guys quit. We weren't sure that he'd really quit; he'd threatened to more than once in order to get a pay raise or more vacation time or whatever, and the owner had given him what he wanted . . . well, this time it was for real, and we had to give our guy who was on loan back.
Luckily, we got a new guy! He started two Mondays ago, and he was supposed to be out at our shop first thing in the morning, except he wasn't, because the owner decided to keep him at the other shop to do oil changes and stuff, so we didn't get him until noon, and by then we were already behind.
He's not everything that we could have hoped for. The guy's worked for like 20 years as an oil change tech, and oil changes and tires are pretty much all he knows. Still, that's better than nothing, and better than having me do oil changes instead of something that's actually profitable.
We got caught up and then got behind because he called in sick on Thursday, and my manager had decided to just put everything there was on the schedule now that we had a new guy.
This week, he got stolen for the other shop on Thursday (so far I'm seeing a pattern of us not having him on Thursdays), and he was supposed to be over there on Friday, too, but for once my manager's bossiness and overbearing nature won the day, and we got him back for Friday, and it was a good thing, too. Thursday, I didn't leave work until two hours after we'd theoretically closed, and our schedule for Friday looked worse . . . . but we got it all done.
Did I mention that we've had our best October ever, sales-wise, and it's not even over yet?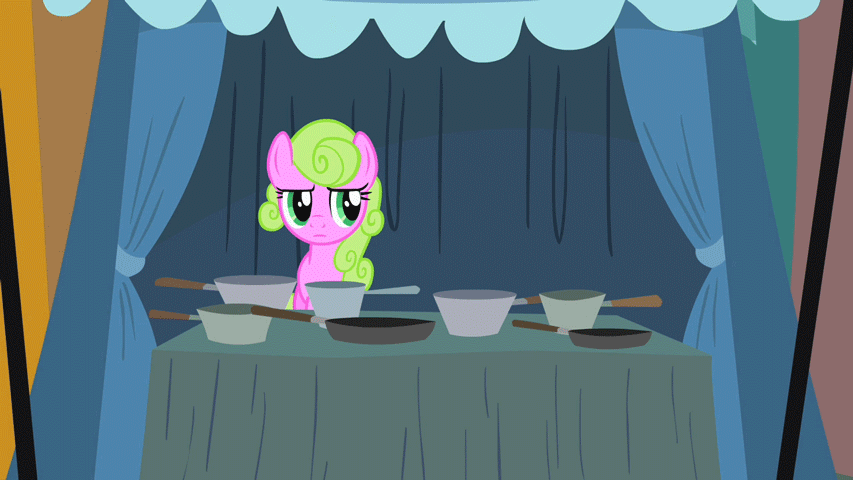 Episode Screencap
So that's really cut into my writing time and answering comments time and some people have also noticed that I've been fairly absent from Discord.
---
Couple of updates that y'all might have missed. First off, next year at Bronycon there's plans to have a bookstore selling actual print copies of various author's works. I am intending to participate. Silver Glow's Journal is not an option; it's too long . . . I already checked with a couple of book-making companies in terms of the likely page count. What I'm thinking of doing is Celestia Sleeps In, the Sam and Rose stories, and not sure what to do for a third. I could do a collection of SoL stories if that's something that people would like. But if y'all have different ideas, I'd be interested in hearing them.

Source
Other projects that might have missed your notice: Horizon is running something called Back When Tigers Used To Smoke, which if I'm reading the blog post correctly is a collab project along the lines of The Book of Imaginary Beings. I think he's still accepting ideas, but I'm not entirely sure.
Excitingly (for me, at least), Pinkie Pie's Last Nightmare Night is the fic of the month over at Tag-a-long's Book Club. This makes me happy.
Finally, Jinglemas time is upon us once again!
---
I have one project that I wanted to publish on or about Halloween, and honestly there's very little chance of it actually being done by then. It might be completely written, but even if it is there's no way it'll be edited. I'll keep y'all posted on that. Maybe I'll keep it in the hopper until next Halloween (of course, that's what I did with it last year), or maybe I'll publish the first chapter on Halloween and do updates on a semi-regular pace after that.
I've also got the next chapter of OPP out to pre-readers. They've looked at it and made comments and I haven't had time to do anything with those comments.

Source
I do have the weekend off (yay!) and that's gonna be one of the things I'll do.
I also recently published an update to an older story that basically nobody read. I'm not gonna tell you which one it was.

But I'll let y'all know when I push the next two through . . . one of 'em has Hannah Hawes in it.
---
I'm going to close this with a teaser from an upcoming story. And I'm not gonna give you any other context.

"A marina?  Like where boats dock?"

"No, Marina like the orca-pony.  Look, see how I'm moving my ear, that means it's a name and not a thing."

"Wait, you're telling me that ear movement is how you tell names from nouns?"

"Yeah.  In case you were wondering why I can never figure out if you're talking about a pony or a piece of furniture."

"You ponies are silly."  You stand up and Daring flies off her bed and lands on the floor.  "Okay, but we're not going to drink too much and we're going to be sure that you're ready for your speech, okay?"

"Yes, Banana."

Source