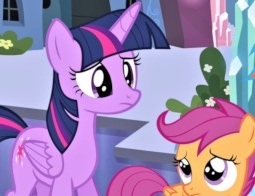 This story, now completed, was a rather interesting tale that I quite enjoyed. I followed it in it's early days, the first few days of it's publication, and was sad that for a while it wasn't updated, they happy when it seemed the author jump stared chapter production and long chapters at that. His longest at over 8K words. While there aren't many chapters the length of the chapters allowed for more than enough time to get the point and plot across til the next.
Now then, how to put this story into a perspective that makes sense... Or rather, doesn't spoil the plot. Well, if I am to put it into a few words, I will say surprising. The whole plot is mostly waiting for Twilight's parents to come by to explain how Scootaloo is Twilight and Shining's sister and for a while Twilight panics, like she knows how, but quickly starts acting the Big Sister role. You can see she is very unfamiliar about it and the story very well tells both side of Scootaloo's and Twilight's struggles to cope with this shocking news. It's a very...real. It feels real and believable.
The ending wraps a very nice bow around the whole thing with an explanation that makes sense and leaves no one as a guilty party, now while I did enjoy the ending, I felt... like it was lacking. I was happy for the ending, but felt a more...dramatic ending would have been better. The ending paints Twilight's parents as perfect. I love imperfection in characters, and Twilight's parents and family is often portrayed as just...perfect.
All in all, the story was short with long chapters that drove the plot along at a perfect pace. The ending was w tad too marry sue if I'm honest but still enjoyable. I give it a 7/10.