There comes a point where nostalgia must give way to reality. Sometimes things last far longer than they should have, and the longer they try to drag out their lifespan, the more you realize how flawed and, perhaps, bad they were to begin with. And when they finally come to an end, you're left feeling empty, as if you have wasted years of your life on something that amounted to little more than disappointment. At least you can watch it die, letting you walk away with the knowledge that you are free.
But enough about Dragon Ball Super. Let's talk about the Season 8 premier of FiM. This is "School Daze."
---
TECHNICAL SPECS:
Season: 8
Episodes: 1 + 2
Written By: Mike Vogel and Nicole Dubuc
First Aired: March 24, 2018
---
SYNOPSIS:
Once again, the Map is up to shenanigans, expanding itself somehow while the Mane 6 were dealing with that annoying monkey guy and middling box office returns. Now that the Map stretches beyond their means, Twilight decides to reverse their usual operations and open a school, thereby bringing their future friendship subjects to them. Unfortunately, all schools in Equestria are run by the EEA, a shadowy board determined to keep things by the book. Can the School of Friendship find success against outdated teaching techniques, disinterested students, unprepared teachers, and old-fashioned racism?
---
REVIEW:
Ever since it was confirmed that Season Eight would be based around setting up a School of Friendship, I had exactly one thought: "This is the dumbest thing I have ever heard." Let's put aside for the minute that apparently not a single other species in Equestria has any concept of "friendship," making it the Pony Mare's Burden to educate those poor lesser races on how to hug and eat cupcakes. Twilight is drafting her friends, all of whom have other jobs and no history in education, to become teachers? Rarity is running an entire chain of clothing stores, Rainbow Dash is a Wonderbolt, and Applejack runs a farm. Fluttershy has that animal sanctuary now, and even then, I don't think she's up for taking control of an entire classroom of rowdy students. So yes, this seemed incredibly stupid.
On top of that, we have six new characters to deal with. Six. That's a lot of new characters to introduce at once, especially when you've already got a good-sized main cast. And all of this came with the unmistakable odor of "toy sales." At least no one had to lose their home/life to sate Hasbro's bloodlust this time.
So when the episode finally aired, I walked away thinking it was...okay. Not fantastic or spectacular, but definitely better than it should have been with its premise. Yes, Twilight making her friends teachers was stupid, but the episode at least acknowledges her faults here, while also showing how successful they could be when not being forced to adhere to the guidelines. And the new six characters are...also perfectly okay. They're pretty close to established characters personality-wise, but they are still enjoyable enough that I'm looking forward to seeing them more.
The EEA (no EA jokes, they've already been done to death) is pretty much your standard government bureaucracy at first. Everything has to be done to the letter for the sake of doing everything to the letter, even when it negatively impacts productivity and student engagement. Take a look at any standardized educational guidelines in any public school system, and you can see the same thing in action. Where Chancellor Neighsay goes even further is in being a full-fledged racist. I saw that coming from the first time I read the synopsis, but the moment he reveals his messed-up way of thinking still hits hard with how brutal it is. In one fell stroke, this shadowy government stooge nearly breaks down Equestria's diplomatic relationships, leading to the world on the brink of a world war. And he nearly does it again at the end. IN FRONT OF CELESTIA. That is dedication to your bigotry.
So of course, he gets away in the end, plotting his revenge for the season finale. Thankfully, after the Changeling Invasion of Season Six, Pinkie Pie has fitted the castle for just such an occasion.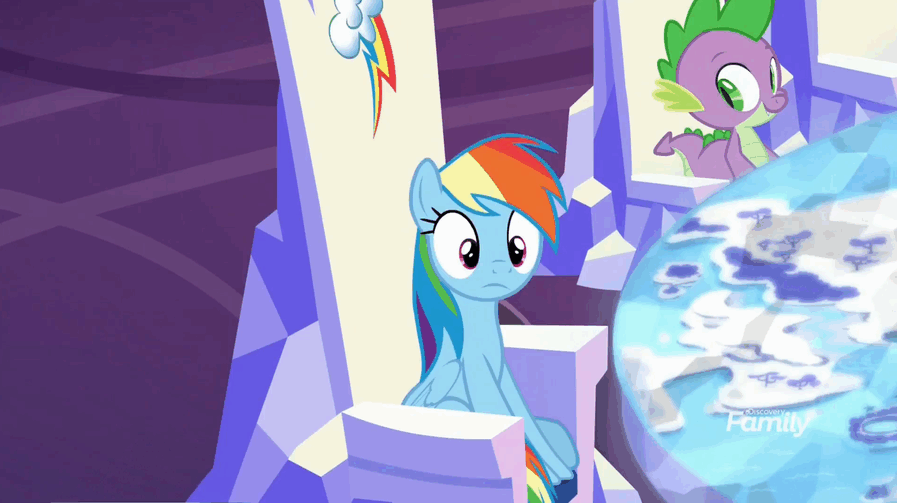 Twilight ain't gonna be some damsel in distress like Celestia and Luna.
I didn't like either of the songs. That's all I will say about them.
---
CONCLUSION:
Sorry if the review seems really brief and insubstantial. There's just not much to discuss so far. The episode is fine, but that's about it. Most of the episode is just about setting up for episodes down the line, where we'll spend more time with the new students and exploring the Mane 6 as teachers. Even the villain's role is an obvious setup for another episode down the road, even if it may or may not be the exact season finale.
That said, considering how the premise could have fallen flat on its face, the fact that the episode left me open enough to give it a chance is a victory in and of itself. The whole "School of Friendship" is still a cheesy idea, but I'm willing to give it a chance to become something more.
---
Next week, Pinkie Pie finds herself becoming the third wheel with Maud once again.
But seriously, fuck Dragon Ball Super.