So, I've been working on a Just a Little Batty one shot side story for Scribblefest that focuses on Morning Glory and Tempered Mettle. It takes place before Night was born, and is T, so expect the tone to be a bit different.
If you're interested, though: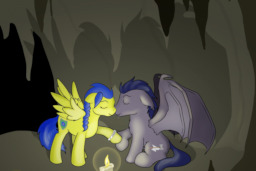 One Batty Family
She has the day shift; he guards the night. One pegasus, one thestral, just trying to make things work. They've known each other since childhood, so meeting the family shouldn't be quite such a big deal. But then the family tree got involved...