092 Announcing: Merry Chestnuts and a Happy New Fleur!
The month of December is, without a doubt, a very special time of the year. Christmas, presents, Mariah Carey on the radio, snow if you're lucky, all that jazz. It was particularly interesting four (!) years ago when I was halfway through the original Of Lilies and Chestnuts, a story which tackled the adoption trope and challenged one mare regarding her social role of a mother.
I'm happy to announce that there is something new in the works. Let's see the cover first!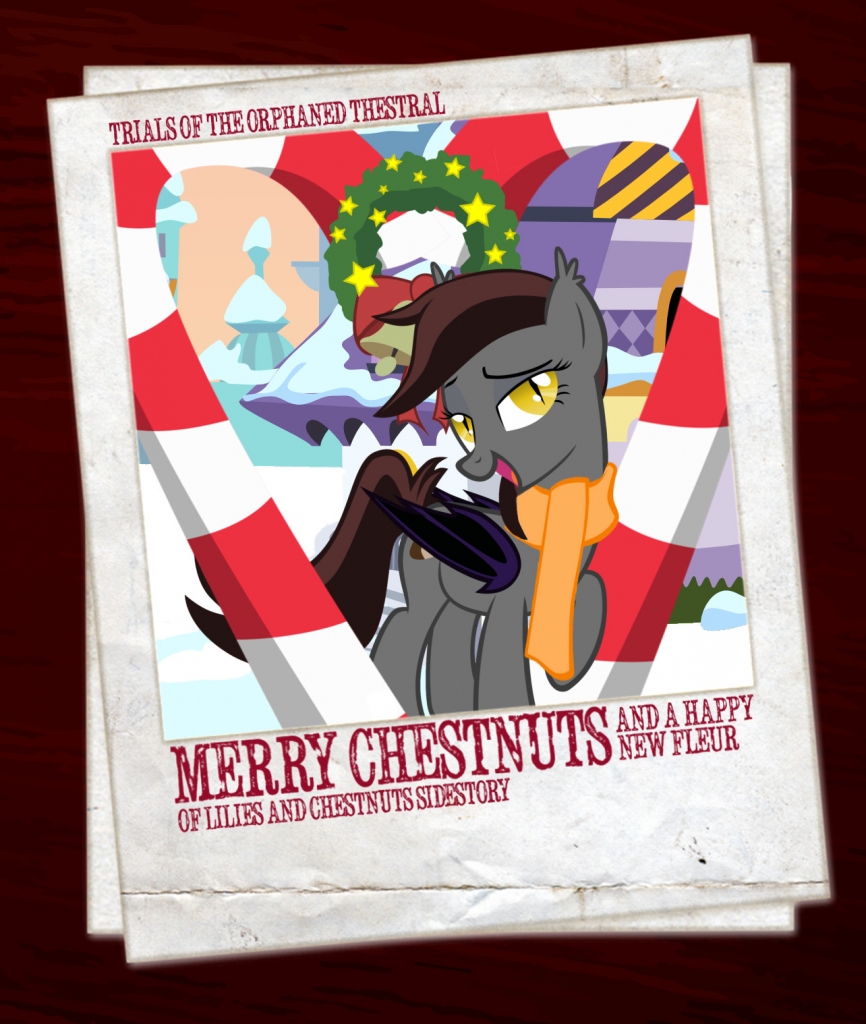 Ta-dah! It's a sidestory that takes place three weeks after the events of the original, so we'll have chance to observe Chestnut's "second" steps among the Canterlot Elite, and see how Fleur now see things around her! I wouldn't go as far as to calling it a sequel, obviously - more like a "Christmas special" the purpose of which is, as in all such specials, to show the characters we know engaged in seasonal activities, such as Dreaming of a White Christmas, Roasting Chestnuts on an Open Fire and finding out if Santa Hooves Is Coming to Town. See the pattern? What it means for the story is that it will be a multi-chapter box of Hearth's Warming-themed motifs wrapped with a neat, narrative bow (but the main focus is still on those individual song-inspired chapters).
The catch is that it's not ready yet. Between handling new responsibilities at work, enjoying some video games with friends, your regular Christmas matters, and realizing that by writing one chapter you've accidentally created two, I'll be taking my time to finish it. Once it's done (mid to late January I guess?), however, you will be cordially invited for at least a week of daily chapters about Fleur, Fancy Pants, Chestnut and several other characters you've met in Of Lilies and Chestnuts - both canon and original.
Until then I'd like to once again thank you all for you support and wish you all the best - may this late December be filled with joy, luck, love and bring you good health and an opportunity to rest before the new year (as to the New Year's wishes, we'll probably get to it sometime next week). In other words: Merry Chestnuts and a Happy New Fleur to you all, and asap!
~Prane