091 New story: Straight Outta Loot Box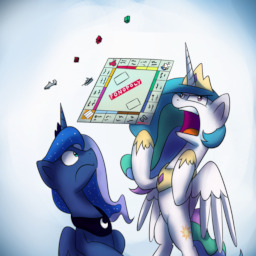 I'm pretty close to the gaming industry as a whole, both at work and in my private time, so I was following the recent drama around Battlefront II with great interest. At some point, possibly after midnight, something sparked and this story was born. Why, how, for what purpose, I can't tell - what I know thought is that the last time I got so soon from the idea to publishing was around Expulsion, which turned out quite well. Is that the case with this story? I leave the judgment in your hands.
Here's a short description Straight Outta Loot Box:
Young Celestia and Luna get a new board game in which they create their own universe. It gets intense.