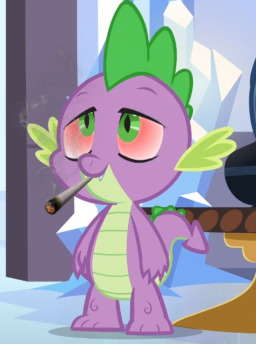 New story! So, uh, it's not Time Enough For Love, but before you murder me in my sleep ...
I'm publishing this for two reasons: 1) it's a holiday story (lol blaze 420 lolololol), and I've been holding it for today; and 2) it was already complete and didn't take anything away from my editing time. I'm a regular participant in the Writeoff Association competitions, and I wrote this for the last MLP Writeoff. (Where, incidentally, I warned people it wasn't my usual, and it washed out of finals by a humiliating margin. At the time I wrote that post, it was pretty much a trainwreck, but I managed to add some better scenes in, and there are some things I'm proud of in the finished product. I don't think this is one of my better stories, but it might appeal to some people on subject matter, and I'm personally fond of the final brick joke.)
I should talk about Time Enough For Love and my other upcoming projects, so if you'd rather see me ramble about that than read an awkwardly silly drug dramedy, head below the cut.
---
So, where are we on the story that I've been promising for the better part of a year?
Answer: Progressing! With all the speed of a particularly enthusiastic glacier, mind, but progressing. The end of last year was pretty politically miserable and exhausting, but the demands of activism have somewhat receded; the early part of this year was booked with Search And Rescue training (a way to make a concrete and positive difference that intersected with some other interests of mine), but I'm now mission-ready; the writing I had to do because of volunteering for Babscon is over with; and in general, my schedule (while now less predictable) is more open. Equally importantly, emotionally I've dragged myself out of the video-game abyss that was helping me cope with all that stress, and back to the keyboard.
In fact, two weekends ago (before Babscon wrecked my schedule), I went back to TEFL and got another scene completed (I'd ripped apart a conversation between Clover, Cookie, and Pansy for intensive editing, which I finished). I've got two more short scenes half-written (about Celestia and Clover's world-spanning adventure after hooking up) that flesh out and strengthen the central relationship; two scenes to write with Clover and Luna that close a secondary arc that never went anywhere in the original draft; and ... that's basically it. Two chapters out of four are in a fully publishable state, and everything in chapters 3 and 4 that doesn't have to be written from scratch has already been polished to a shine I'm comfortable with. So I've got four big steps to take, and I'm going to push at them one by one.
I'm hoping that I can do one of those today -- I've got the day set aside for writing stuff, and I'm currently at a coffee shop with a laptop. I've had a few work things come up, though, so we'll see. Ugh. (The weekend should be free, though, unless today's SAR callout extends to another few days ...)
More excitingly (at least for TEFL fans): I'm stepping away from the Writeoffs for a little while. They've been one of the only things keeping me putting out new material on a regular basis, so I don't make that decision lightly, but frankly, that reclaims a lot of time and lets me refocus on editing and reclaiming my older works. In other words, aside from my RCL reading,
TEFL is ponyfic priority 1 right now -- and after it's done, Hard Reset 2 needs a new chapter or two because damn that story's been on hiatus too long.
I'm going to try to be more conscientious about blogging, too. Not in the sense of pouring words out here that could be going into my stories, but in the sense of staying connected to the community, and not holding back things I want to mention just because they are less important than my writing. (They are -- but that doesn't stop me from other silent distractions, and I'm pretty sure that you'd rather be hearing from me than hearing the last several months' awkward silence.)
So, uh, that's it, basically. New story. Progress toward the one you want to read. Readjusting my schedule.
Tune in tonight or tomorrow for another post full of quick links and signal boosts I've been queueing up behind the State Of The Author announcement. I'd rather give them their own spotlight than bury them here.