Spoilers... (Well Duh)
---
FUN FUN FUN FUN FUN FUN FUN FUN FUN FUN FUN FUN FUN FUN FUN FUN FUN FUN FUN FUN FUN FUN FUN FUN FUN FUN FUN FUN FUN FUN FUN FUN FUN FUN FUN FUN FUN FUN FUN FUN FUN FUN FUN FUN FUN FUN FUN FUN FUN FUN FUN FUN FUN FUN FUN FUN FUN FUN FUN FUN FUN FUN FUN FUN FUN FUN FUN FUN FUN FUN FUN FUN FUN FUN FUN FUN FUN FUN FUN FUN FUN FUN FUN FUN FUN FUN FUN FUN FUN FUN FUN FUN FUN FUN FUN FUN FUN FUN FUN FUN FUN FUN FUN FUN FUN FUN FUN FUN FUN FUN FUN FUN FUN FUN FUN FUN FUN FUN FUN FUN FUN FUN FUN FUN FUN FUN FUN FUN FUN FUN FUN FUN FUN FUN FUN FUN FUN FUN FUN FUN FUN FUN FUN FUN FUN FUN FUN FUN FUN FUN FUN FUN FUN FUN FUN FUN FUN FUN FUN FUN FUN FUN FUN FUN FUN FUN FUN FUN FUN FUN FUN FUN FUN FUN FUN FUN FUN
Pssst.
Pssst!!
Pssst!!!
Overhere! Under the table!
Hi! I'm MixMassBasher and I believe my user page just got overrun with a dozen or so Pinkie Pie Clones.
Why or How? I have no idea...
It's a funny thing actually. The episode Too Many Pinkie Pies offered a lot of visual humour from the one and only Pinkie Pie but the episode itself offered so much story material here on fimfiction regarding the Pinkie Clones in particular.
But since then that has died down...
...only to be reignited with this cameo image.
And that's what I'm here to review/compare once again.
There's The One That Stayed Behind by Harmony Pie and Just a Clone by FictionFreek
There's also this other story by Jay-The-Brony but I've decided not to since Just a Clone was a better version of that story idea by a small margin minus the comedy.
So without further ado...
"Oh Hi!!!"
"Ahhhh!!!"
"I scared you good didn't I?"
"How did you find my obvious hiding spot?... Anyways... who and what are you???"
"Hi! I'm Pinkie Pie Clone number 16055! Wanna be my friend?"
"Urm... Sure?... Also, were there really that many clones in that episode?"
"No. I just thought that was a funny number."
"... Urm... what are you doing here?"
"I dunno?"
"... Well at least you're not Pinkamena..."
"Last time she tried to kill me."
"What? Are you a bad pony?"
"Urm... No... and I'm a human being..."
"Whats a Humane?"
...
So anyways... let the review begin.
---

) Storyline
"What the??? Where's the number... Pinkie..."
"Hehehehe."
Pinkie Clone Sixteen Thousand and Fifty-Five!!! I'm trying to do a review here!!!
*Snort*
"Urgh... that name is way too long for my liking... a shorter one would be more preferable... how about P-16?"
"Nah... the names to similar to a character from Fallout: Equestria Project Horizon."
"Okay how about PC-16k?"
"That's better..."
"Okay now can I get back to review?"
"Okie Dokie Lokie!"
So... which story had the better storyline that immersed readers into the story itself?
With only 2831 words, Just a Clone sucked me into the story straight away the perspective of the Pinkie Pie Clone.
My life hasn't been easy, far from it actually, for my whole life I think I've done nothing but hide my face and constantly looking over my shoulder. Always making sure no one will recognize me, always doing my best not to run into a certain pony. How long have I been doing this you might ask? Well to tell you the truth it's only been about two years. Sure it doesn't seem like much for other ponies, but in my case, those two years actually do make up my entire life.
The One That Stayed Behind, with 4535 words, meanwhile start the story to just the end of the episode Too Many Pinkie Pies.
Pinkie Pie, with a gasp, jumped up on her chair.

Her cyan eyes sparkled, and she cleared her throat dramatically. "I, Pinkamena Diane Pie, am solemnly sorry for the deeds that I have inflicted upon Applejack through the usage of the Mirror Pool, and hereby apologize. To make amends for my sins towards one of my closest compadres, I swear to become her slave for the rest of eternity."
Both introductions felt like they were off to a good start.
Furthermore, both endings of each stories are near dead similar with the Pinkie Pie Clones having a change in appearance and finally get to live their life.
Extracted from The One That Stayed Behind:

Celestia's golden sun shown down over the station, lighting up the metal train that screeched onto the tracks.

Applejack watched a dark grey coated mare with straight, ruby red hair step up to her. Her cyan eyes shone, although her face remained solemn.

"You think Twilight did a good job?" she asked.

Applejack grinned. "She did better than a three-eyed sniper in a shooting competition. Hooey, you look amazin' Pinkamena!"

Pinkamena turned. "Really? Even the mark?"

Applejack nodded, studying the crystalized red balloon upon her flank. Pinkamena had explained to her it was the crystals found in the cave of the Mirror Pool.
Extracted from Just a Clone:

"W-wait, what?" I asked in confusion, "I don't, w-why am I still here, did the spell-" I stop and place a hoof to my throat. Something was off, "M-my voice." It was different than before, sweeter but also slightly lower in pitch. Twilight and Pinkie smiled, the former levitating a mirror into my sights. The reflection almost caused my eyes to bulge out of their sockets. I dashed to it placing my hooves on the glass, it had to be a trick, right?

"M-my mane, my coat, my horn." I pause for a second focused on my forehead "I have a horn?!" It was all different, from my colors to my mane style. I looked to Twilight "I don't understand, I thought you were going to send my back to the Mirror Pool." Twilight walked up to me and placed a hoof on my shoulder.
As for the main point of each story... Well... that's where the differences start.
Harmony Pie's story had it shift from a light hearted tone to a darker one with AJ interacting with Pinkamena for the first time.
"Who do you think I am?" she asked flatly. Her voice was oddly warbling, and her eyes held a hint of red.

Applejack was taken aback. "What? You're obviously a changeling of my friend! But ya forgot that Pinkie's hair is never straight, except when--"

"When..." Applejack shook her head. "Stop messing with me! Ya know what ya are! Now tell me--"

The changeling shoved a hoof in her mouth, her eyes flickered with anger. "Stop talking, you farmer," she hissed. "You have no idea what you're saying."

Applejack's eyes widened, and she pushed back against her her assaulter. "Now Ah know ya ain't Pinkie," she spat, leaning closer.

"Of course I'm not, you fool," she responded, but her face contorted for a second. "You want to know who I am before you go around falsely accusing ponies?" she leered at Applejack. "Or do you want to spill a little blood before you let me speak?"
FictionFreek's story was consistent throughout in it's tone while setting up the entire backstory on the Pinkie Pie Duplicate.
The thing is I wasn't born like traditional ponies have, instead I just sort of popped into existence thanks to a magical pond. You see I'm actually a clone, a mirror image of the pony whose face I share, and her name is Pinkie Pie. I guess you can say that's my name too, but if I had to be honest, it hasn't felt like that in a long time. I may look and sound like her, but if you put the two of us together in the same room, I think you'd be able to tell who's the original.

That said I never want to be caught in the same room as her, not after what happened two years ago. You see there used to be more of us, about a few hundred or so, but when we started to wreck the town we were all herded into town hall. Well, almost all of us, by some luck I'd managed to avoid being dragged in, but I did manage to see what happened. And after seeing the first few clones get zapped back into the Mirror Pool I ran away scared. And I kept running until I was sure I was someplace where Pinkie's face wasn't commonly known.
Both stories are different in terms of perspective. Third person for Harmony Pie's story and First person for FictionFreek's story.
Just a Clone gains the upper hand as 1st Person Perspective tends to immerse you into the story more than 3rd Person.
It also doesn't help that some moments in The One That Stayed Behind push me away from it making me wonder "What just happen?"
The farm mare jerked back, an irate blush blossoming across her face. "Ah'm not some kind of monster!" she barked at the nonchalant mare.

"Oh, really?" she replied. "Are you just that way to changelings? A typical racist. Am I suddenly horrible because you assumed I was of a "bug" race?"

"Ah am not a racist," Applejack retorted, almost softer. "Ah just--"

"What?" she jeered.
Yikes... why all the hostility....
Perhaps another problem with The One That Stayed Behind. The rather improper explanation in regards to the duplicate Pinkie's hostility towards AJ.
She cleared her throat. "It was an... interesting day, I suppose. We were happily rotating the rocks to a different field, when all of a sudden, it happened." There was a look on her face that Applejack couldn't quite place.

The farm mare remained silent, with only a quizzed expression as Pinkamena paused.

"Pinkamena, she was in charge. It was great for many of my foal years, I suppose. That was how life worked, until that day. That horrible day when the Rainboom shook through the farm. I remember it, all the colors blowing across the rocks, the wind that rocketed the fields. It was amazing. And then Pinkie..." she gritted her teeth. "Pinkie decided that she just couldn't wait any longer and she took charge! The Rainboom finally sparked an emotional high, and they switched!"

Applejack flinched at the malice written in Pinkamena's features. "Switched?" she breathed.

Pinkamena jerked her head toward her, like a puppet on strings. "Yeah, switched." She took a deep, ragged breath. "I suppose, when Pinkamena was younger, she realized that not her entire being liked dark, gloomy and boring things. There was a small part of her mind that was of the opposite nature. It worked pretty well, hiding it away. But as I told you, The Rainboom was finally the last straw," she said darkly.
"Pinkie took the body, changed her name, and Pinkamena was shoved away, labeled as the dark and dangerous side of the now fun loving mare," she snapped bitterly, hiding further behind her dirty hair.

Applejack quickly closed her mouth when she realized she had been gaping. "Well?"

"Well, what?" Pinkamena replied cooly.

Applejack pushed her stetson back. "That was it? Where's the rest? That was just so... blunt," she stated, scrunching her muzzle up.
Pinkamena regarded her with a scowl. "That is it. That's all I remember, and that's all that's important. Pinkamena lost control, and Pinkie started a new chapter in her life. The end."
Honesty I didn't bought the explanation "Pinkamena" was saying. I believed it would have been better if it was just a clone bitter and angry about life for her now sudden loneliness which was the impress the cover image of Harmony Pie's story gave to me. That would better explain the hostility "Pinkamena" had.
[img][center]http://cdn-img.fimfiction.net/story/ifi5-1464218897-317812-full[/center][/img]
While I liked the changed in tone Harmony Pie was attempting with her story... I think I rather read Just A Clone as it was more clearer to the point from start to end.
So Just A Clone takes the first point!!!
Extracted from The One That Stayed Behind:
Pinkamena looked up. "Excuse me?"
---
2)Comedy
"Urm... Why is comedy is crossed out...???"
"You said it yourself Mixy, both don't follow that route!"
"Huh!?!"
"You silly filly. *giggle*. As you said before that if readers are looking for a funny Pinkie Pie Clone story it would be The Clone That Got Away by Jay The Brony. That implies that both stories don't seem to follow that route..."
"Okay... fair enough... So it should be which has the better theme?"
"Bingo!!! Somepony give him a pat on the back!!!"
---
2)Theme
Okay so clearly both never went in the direction of comedy so what direction did they go for instead?
You may think both had similar themes with both the drama and slice of life tags but The One That Stayed Behind had a Dark Theme to it while Just a Clone had Tragedy as the Theme.
The One That Stayed Behind while initially had that comedic beginning. That made way for the darker part of the story as mentioned before. Yet by the end it ends off on a light-hearted note.
Just a Clone summarised the entire adventure of the Pinkie Pie clone and does mentions the fear of "dying" from the clones perspective but I wished the story could have put into more detail on how the clone had lost all her sisters.
The One That Stay Behind gains an advantage for it's ability to change it's theme of it's story with ease; from comedy to dark, from dark to sad and from sad to happy.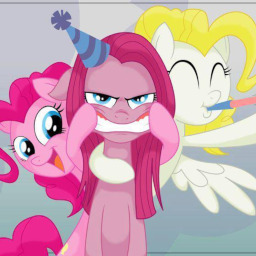 While I did mentioned Just A Clone is consistent throughout it's whole story in it's theme on the tragedy of the clone this concept can be a double edge sword. As mentioned before, I liked the shifting themes in Harmony Pie's story compared to FictionFreak's story. While I may not liked the details... It is still commendable nonetheless to try out this style of writing rather than the same old theme throughout. FictionFreak's needed more variety in it's themes so as to make the story more eye-catching.
The One That Stayed Behind takes the next point!!!
Extracted from Just A Clone:
"W-wait, what?" I asked in confusion,
---
Sretcarahc )3
"Is that backwards??? What the... You know what! Never mind... I give up!!!"
"Awwww but this was starting to be fun Mixy..."
Ignoring you...
Okay now, both stories are starred the Pinkie Pie Clones. Well... mostly. AJ was more of the mane character in The One That Stayed Behind than "Pinkamena".
AJ was a well-grounded character as always for character in most stories.
"Ah was born a farm filly, ya get it? Born and raised on this apple field, heck, Granny Smith--that's mah grandmother--even told me mah parents gave birth to me in mah own bedroom," Applejack chuckled softly.

"But one day, Ah finally decided that maybe it wasn't quite right. Maybe Ah didn't quite belong as an apple farmer. Hay, Ah'm orange, right?"
Pinkamena just cocked an ear, raising an eyebrow as if to say: "Go on."

"Ahem. So, imagine a little 11 year old filly, setting off on her own to visit her Aunt and Uncle Orange in the big ol' city of Manehatten. There she is, trying to find herself amongst all these high society folk, and failing miserably. Eating food the size o' pebbles just isn't her thing. Now she's sitting in her painfully orange colored bedroom, curled up against the bed. The little filly is heartbroken; she doesn't belong here, either. She goes over to the window, in hope of seeing the same sun that's shared by her farm. Oh, how she misses her family. All of a sudden, there's a huge rainbow explosion, and she spots a rainbow arching--reaching all the way to her worn down farm back in Ponyville. And in an instant she knows where she belongs. The farm filly gets up, away from that awful, suffocating place, and runs all the way back to Sweet Apple Acres on her stubby little legs. As she runs, she can see her big brother, standing beside her sweet old grandmother, and a light flashes on her flank. She finally got her cutie mark."
Just A Clone also had Twilight and the original Pinkie Pie in the story but they only appeared at the end.
Now I'm just stalling myself, so I push the pain of having to leave this all behind deep down inside me and make my way to the door. I take one last moment to look around, one last moment to remember the life I had, and I open the door. And it was at that very moment when I felt all the blood drain from my face. I was staring myself right in the face, the very face that I'd tried to avoid all my life, and she wasn't alone. Right next to her was the Alicorn who could send me right back to the mirror pool, Twilight Sparkle.

We all stood there completely still, the only sound was a rhythmic thump, though I think that might have been my heart beat. The both looked at each other for a moment, and Pinkie raised a hoof "Um…hi-" I slammed the door. I tried not to panic as I looked for another way out, my eyes quickly going towards the window. Problem was my apartment was on the fifth floor and I only had about three feet of blanket. My mind raced as I tried to look for another way out, but I couldn't find one. I couldn't leave the room, I can't escape. After two years of running, after two years of hiding, I was backed into a corner with only one option.
But quite obviously both stories are mainly about the clones of Pinkie Pie... So which is better? Both have their own backstories but with characters kept me interested?
Well to start off "Pinkamena" of The One That Stayed Behind was way too serious for my liking...
You said Pinkie Pie Clone number 2831 is way too serious? Have you seen the other versions of us?

"There's one version that's a complete drug addict, one that's a complete psychopath, there's one with the soul of a draconequus, there's also one that's a changeling and then there's one or maybe two that are schizophrenic and furthermore...
Well at least those versions kept me interested. This version of the duplicates of Pinkie I felt no connection for in anyway. This version just didn't hit that marker for me.
The Pinkie Pie Doppelganger in Just A Clone on the other hand... gave the better connection with me. The panicked and scared, sad and give up mindset of this Pinkie Pie Doppelganger gave a better connection for me from start to end. The complexity of her character was rather interesting to read.
Panic & Scared:
And after seeing the first few clones get zapped back into the Mirror Pool I ran away scared. And I kept running until I was sure I was someplace where Pinkie's face wasn't commonly known.
Sad:
By some twist of fate, I managed to live a somewhat normal life, and well, I was happy.

Was

Everything I've tried to build for myself in the last two years was about to disappear.
Hopeless Mindset:
We all stood there completely still, the only sound was a rhythmic thump, though I think that might have been my heart beat. The both looked at each other for a moment, and Pinkie raised a hoof "Um…hi-" I slammed the door. I tried not to panic as I looked for another way out, my eyes quickly going towards the window. Problem was my apartment was on the fifth floor and I only had about three feet of blanket. My mind raced as I tried to look for another way out, but I couldn't find one. I couldn't leave the room, I can't escape. After two years of running, after two years of hiding, I was backed into a corner with only one option.
I had to accept it.
That... kept me very interested. Perhaps it was the fact that the backstory of this clone was better than the one in Harmony Pie's portrayal which in turn also gave better depth in the character of the clone.
So, Just A Clone takes the final point and is thus the better story overall!!!
Though the word count could be more...
Hush PC-16k!!!
I'll at least give the Harmony Pie the credit for the somewhat character development by the end of her story.
Pinkamena lowered her ears, hiding behind her dark mane. "Fine. Thanks," she muttered. "I'll come soon, Applejack, you filthy mud farmer."

Applejack chuckled. "Go on and make your mark, ya fool," she replied lightly, pushing the reluctant mare forward.

"All aboard!"

Pinkamena glared at the conductor. "You better shut your mouth and give me time," she growled.

"Oh, ho, ho," Applejack pulled her away from the bewildered stallion. "Come now, ya have to go. Ya can't stay here forever, sugarcube."

Pinkamena sighed, giving Applejack a quick hug. "Bye," she said stiffly, before turning around and heading to the door. Just before she was about to step over the threshold to a new life, she faced Applejack.

"I'm sorry about your barn."

Applejack smiled, waving goodbye with a heavy heart. "Now, Pinkamena, ya really don't need ta apologize."
I'd recommend both stories to read as they can show you know the same idea can be interpreted differently and thus written differently. That's what makes any Pinkie Pie related story interesting. The randomness of her character. Inspiration and Creativity are certainly shown in these two stories.
---
...FUN FUN FUN FUN FUN FUN FUN FUN FUN FUN FUN FUN FUN FUN FUN FUN FUN FUN FUN FUN FUN FUN FUN FUN FUN FUN FUN FUN FUN FUN FUN FUN...
"Oh right... how am I to get rid of these clones???"
"No Problemo Mixy... Allow me..."
"Run!!! That purple unicorn is back to send us to the mirror pool!!!"
At that, the room was instantly empty.
"Well... that's one way to solve a problem... and why are you still here?"
"You're silly so I decided to stick around."
"....well okay then..."
This is MixMassBasher...
...and Pinkie-C16k...
...signing out.

Hard to believe nopony mentioned this Pinkie Pie Clone?
Oh that's me. I was trying out this 80's retro style
...
*Facepalm*
I'm never going to get rid of you am I?
Nope!
Celestia help me...