hey guys sup
it's wacky box reviews again
for realz this time
get I'm hip because I spelled reals with a z
"sure why not" pick:
The One Who Got Away by Jay-The-Brony
did anyone else notice this guy has 180 fics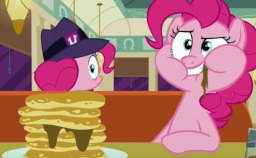 Pinky is not Pinkie. Nope, that's a completely different mare. The two have absolutely nothing in common, and Pinky certainly isn't a magically-made clone of Pinkie, no Sir. Pinky is just your average, non-Pinkie mare, trying to get on with life.

Which makes things a little difficult when a certain other mare, one who totally isn't the original flesh-and-blood pony of a cloning magic that never even happened to begin with, comes waltzing in out of nowhere.
---
So there was a random Pinkie clone in the background of the latest episode
that was a thing
And uh
Honestly that's about all I can say for this fic
It's a thing.
I don't even really know how to summarize it without just giving you the fic. It's Pinkie's paranoid mirror pool clone hanging out in a diner. The real Pinkie shows up and she notices the clone but doesn't notice that she's a clone.
"Hey...wait a minute."

Pinky clenched her teeth with nervousness, remaining silent as Pinkie continued.

"There's...there's something about you."

Sweat was rolling off Pinky now, but, she kept her mouth shut, just in time to hear Pinkie continue yet again.

"That...is one great hat!"
Crisis averted
I actually really dig random unexplained cameos like the pinkie clone because they're basically the kind of stuff people write fanfics FOR. Explaining like these random plothooks that never really get talked about is practically its own genre and I'd kind of argue that a big part of the reason the fanfic scene in this fandom is so vibrant is because mlp is so good about working things like these in. I mean the very first episode of this wild ride just sort of implies that Celestia is like a thousand years old and it never actually goes into that ever.
On the other hand there's like this innate desire for FIRSTNESS every time an episode has a new hook. I get that these things give people ideas but fics like these hit the front page basically the minute the credits roll for the episode they're based on.
like
slow down guys
Obs Thoughts: I'unno I feel like a lot of these fics suffer from just wanting to exist at all, and never really stopping to ask themselves why they SHOULD exist. Which actually sounds like a pretty good conceptual setup for a Pinkie clone fic someone steal that and write about it.
Anyways it's a thousand words about Pinkie's mirror pool clone and I can't really tell what else it wants to be. It's a problem I really think could be solved if people like collectively agreed to stop and think for a couple days on their idea for that one cameo in the episode before they publish a fic about it. I guess for this one a comedy is as close as it gets.
It's mildly amusing but all the gags are ultimately kind of stock for the situation and there isn't really anything to it besides that. I mean, to be fair, it HAS gags in it. It's just that they're mostly the sort of stuff you've probably seen in another cartoon at some point. It's sort of amusing if you're relatively new to the hilariously bad disguise thing, but overall it doesn't bring that much fresh to the table. It's sort of a read and forget. Kind of like taking that random cameo and using a resize tool to make it into a thousand word fic instead of a cameo.
And I mean, maybe it doesn't want to be anything more than that. Which is fine. Some people write fics like these because it's just sort of their hobby and they dig doing that. It's not inherently wrong to make something like this.
I just can't, y'know, congratulate it for being that.
I give this fic some french fries
---
---
---
"sure okay there's another one" pick:
Just a Clone by FictionFreek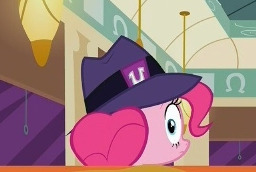 For two years I've been hiding, for two years I've tried to just live my life. But it all came crashing down the day I chose to have lunch at a Diner. Now I'm forced to run again, forced to leave the life I tried to build. But what choice do I have, what choice does a mere clone have when she shouldn't exist?
---
So this one looks pretty similar to the first one, for better or worse I guess. On the other hand it's in the neighborhood of twice as long and it's going for more of a drama thing than a comedy thing so it should be cool as a study in contrast.
This one doesn't actually deal with the Pinkie clone being in the diner. Instead it's more like a general extrapolation of who the Pinkie clone is and her life on the run. The major gripe I have about this setup is that it's written from the Pinkie clone's perspective, but none of it actually really sounds like Pinkie or a clone of Pinkie. Pinkie's kind of a weird character to work with because she's got like this whole hyperactive thing to her, but it's kind of something you have to put up with if you want to cast a fic from her viewpoint.
And uh this fic doesn't really do that
or try to do that.
Everything I've tried to build for myself in the last two years was about to disappear. The normalcy, the happiness, and the thought that I could actually live a peaceful life, it was all about to end. All because I let my guard down for a few minutes. I didn't notice when I entered the diner, and somehow I hadn't noticed when I took a seat. But after two years of looking over my shoulder, to my horror, she was there. I don't know what she was doing there, and frankly I didn't care, all I knew was that I had to get out of there and fast.
It's a really serious tone. I guess that backs up the drama tag, but it just doesn't fit with Pinkie Pie as a thing.
It's like if you took a rainbow and made it grayscale
why would you do that

actually I take it back this is kind of metal
I mean the fic kind of explains it as clone Pinkie taking on her own identity, and I guess it kind of works out by acknowledging that, but honestly if the fic hadn't told me this was a clone of Pinkie I wouldn't have read it as anything like a clone of Pinkie. I feel like there could've been a way to make the clone feel separate from Pinkie without feeling like someone entirely unrelated. Or I mean if it couldn't do that, it probably would have been better to go with the clone acting too much like Pinkie over "I can't recognize this as anything like Pinkie"
I've said Pinkie like thirty times in this review already
Anyways twilight and real pinkie show up and they're like "hey we found you because the friendship map"
and clone Pinkie's like "hax"
then they're like "sorry about you being your own entity with independent thoughts and feelings but you're still kind of a clone and you look like Pinkie so we have to kill you"
and clone Pinkie's like "fair enough"
Except the spell accidentally turns her into a different pony and Twilight's like "surprise you're different enough so we didn't kill you like the other mirror clones, instead I turned you into a unicorn"
"M-my mane, my coat, my horn." I pause for a second focused on my forehead "I have a horn?!" It was all different, from my colors to my mane style. I looked to Twilight "I don't understand, I thought you were going to send my back to the Mirror Pool." Twilight walked up to me and placed a hoof on my shoulder.

"I used that spell way back then to send her clones back to the Mirror Pool. But you aren't a clone, are you?" we turn to look at the mirror again "You're became somepony else, somepony with her own thoughts, her own feelings, and her own life, does that sound like a clone to you?" I keep looking at the reflection, my reflection. For the first time I can look into a mirror and feel that I'm looking at myself, not someone else.
Then everything's great and nobody addresses the fact that Twilight murdered all the other mirror clones for not being different enough ever again
The end
Obs Thoughts: This one's kind of on the other side of the spectrum from the first fic, and I'm not just talking about it being drama instead of comedy. I'm probably going to blame the whole "I need this fic to be out ASAP after the episode" thing for this one, because there's a seed of a great fic in it but it sort of never gets the chance to grow.
The first fic kind of wanted to exist without really thinking about why. This one knows why it wants to exist, but it isn't really THERE yet. It plays up the fact that clone Pinkie has sort of become her own person, and she definitely doesn't sound like real Pinkie, but her entire presence in the fic is basically reflecting on being a clone of Pinkie and worrying about what happens if someone finds out.
It actually winds up feeling kind of silly when the ending says WAIT YOU'RE A SEPARATE PERSON AFTER ALL because the fic only really covers how she spends every waking moment worrying about her clonehood.
So yeah, I mean I ultimately dig the concept, and there's totally room to make a cool fic out of something like this concept, but it feels kind of rushed and I think that kills it more than anything.
I'm not going subtle on this one at all