After the last time, I was approached by the author, Ether Echoes, and very politely asked to at least read the whole story before slamming it so hard.
And fine, I belive that is the type of manners and patience are things that should be rewarded, so I tried.
Oh god, how I tried.

But considering that was over six months ago, I believe you can guess how it went.

I'm sorry, I got to and including chapter #21 this time, but every time I look at those unread last tabs I just... Feel angry and annoyed.
Wall of text where I went my frustrations behind the cut. Spoiler warning.
---
I just... don't care the slightest for any of these people. Or goblins. Or ponies. It's just such a never-ending parade of ass-hats you stop caring who is flinging muck at who for what reason. it just becomes this stinking sea of brown you don't want to get involved with.
The fey are worn-down and dejected outcasts with the intimidation-factor of house-cats. And so fatalistic and petty at that, that I just want to reach in through the screen and smack them all with a bit of iron rebar to give them something to actually complain about.
The ponies... are set-dressing. They do diddly squat that some hidden elf-village couldn't have done. They even frequently stand around doing zip during combat as to not distract from the protagonists 'awesome.'
And everything is humanities fault. Intrinsically, because since we're such mundane, boring meanies, we somehow killed all the joy and wonder in the world because there was one ass-hat during the time of wonders.
Oh, right, and everything was somehow hunky-doray in 'ages long past~', because of reasons. And the main characters get some fucking ichor (read: blood of the gods) because of... other reasons.
Nobody earns anything in this story. Not victory, not their powers. It just... happens, because the plot AKA destiny says so. And they never, ever have any problem controlling those same powers for the same reason.
Again, I cannot recommend this story. It banks far, far too heavily on inspiring a sense of wonder in the reader that it's the only thing it really has going for it. Nothing about how stuff works is explained, it's just... magic, destiny, and horrible people being horrible at each other.
And if you've seen goblins, faeries, read some Greek myths? That's not happening because this story plays those elements so kid friendly they don't have any sting left. It's like trying to take the robots in the German version of Half-Life seriously after you've seen the spec-ops guys in the regular version.
Take the actual myth of the girdle, for example. WoP seems utterly uninterested in that in those original myths, Paris was punished for his hubris. That pegasus lived on to become a constellation, (a rare honor according to the Greek) while his 'master' plunged to his death. It's just... glossed over without as much as a lampshade-hanging.
Again, though, I'll say this: If you are unfamiliar with fairy lore and Greek myth, you might actually enjoy this. The language is quite evocative, and there's this scene earlier I'd missed last time with a goblin market so good it actually drew me into the story for a bit.
But it's just... I've seen all of this before, done better, and the only thing unique about this is that it had a pony on the cover. Now replaced with a well-drawn but boring woman pouring water on grass, of all things.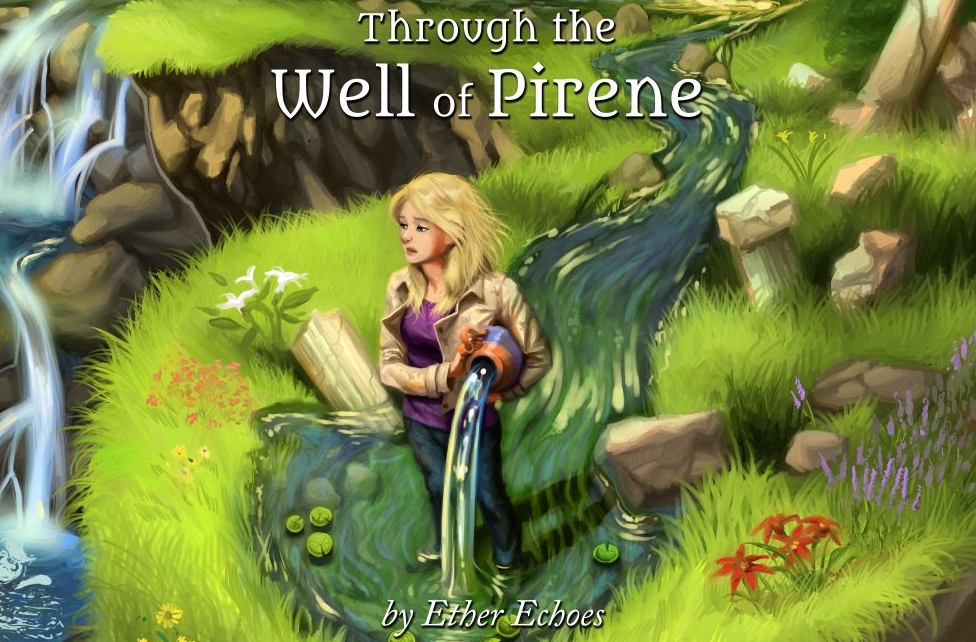 Oh no. She's... over-watering the lawn while watching the horizon! The epicness! Ahhhhhhhhh~!
Jokes aside, I think that is the thing I find most aggravating about all this. What's-Her-Face could have just as easily become, say, a classical unicorn, and it would have had just as much impact on the plot as the pony stuff. Even Celestia spends her entire (to #22 at least, to be fair) on-screen appearance mute and bound, and could have just as easily been replaced with the actual Pegasus for all of how recognizable she is as Celestia.
It really makes it feel as if this was meant as a fantasy novel first, with ponies sprinkled atop as to be publishable on this site and earn an relative easy audience. But with not too much ponies so it would be easy to switch them out for something less copyright infringing once it was time for publication.
Take Lyra for example. She does nothing for 90% of the book I read except stand in the background and make 'wacky' comments, but she's still listed as a main-character. What's-Her-Face doesn't even consider her a friend. What's-Her-Face's child-hood friend doesn't seem to consider Lyra a friend, but an annoyance. For all intents and purposes as far as impact on the story goes, Lyra might as well have been novelty wall-paper enchanted to speak.
And that scummy feeling, right or not, just rubs me the wrong way. Destroying what little enjoyment I had left.
Again, mad, mad props to Ether Echoes for keeping her cool against such a scathing review, but this story just simply isn't for me.
I think she will write great things one day—quite possibly even make it professionally, but WoP is simply so full of assholes, idiots and unimportant by-standards that it just leaves me feeling apathetic about their struggles.
I said it last time, and I'll finish up by saying it again:
So yeah, if Mr/s. Ether Echoes ever figure out how to actually give his/her character's some positive traits I believe s/he might be a force of writing to be reckoned with but this particular story fell rather short in my opinion.
Thanks for reading, and a personal sorry to Ether Echoes as well. I tried and I deeply respect how politely you took critique last time, but WoP just rubs me so the wrong way it might as well be with a belt-sander.
In that light, I leave this link to her user page instead of one to WoP. Ether Echoes have handled this with the patience and calm of a saint, and I find that far more laudable and worthy of attention then the story in question.