Below are two fanfic reviews based purely on the initial impressions provided by the first chapter (or first 3k words.) For an outline of what my reviewing guidelines are, go here. Please do not request reviews!
Before I get into the reviews proper, I just want to note: The way I'm doing these is not random--I'm clicking on the last page of my to-read list, and reviewing the stories on the bottom of each page...
There's still 18 pages left.
Ahem… So given that I was fairly new to MLP fiction upon joining this site, there's going to be a lot of weird stuff on here that I probably wouldn't have added these days. A few short months ago, I was still cultivating my tastes and trying to figure out what I was even into. I had no idea what 'displaced', 'HiE', or even 'clop' was. So if you see something weird reviewed here… Well, I'm just going through the motions of this little experiment. Let's just leave it at that.
---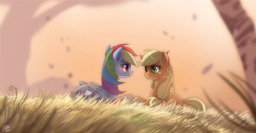 Trial Run by UnlicensedBrony
Rating: Teen
Tags: Romance
Summary: It's obvious to everypony, themselves included, that Applejack and Rainbow Dash have romantic feelings for one another. The only reason they're not together is that they're both convinced that a relationship between them could never work out. Rarity, on the other hoof, is convinced that it could, and Rainbow Dash agrees to a 'three date trial' to prove her wrong...
Grammar: 4/5 - On a technical level, this fic is written very well. I noticed some less than optimal word choices here and there. Nothing horrible, but I think the author may have confused the exact nature of their meanings. For instance, at one point, they describe RD shrugging "coolly" at Rarity during a casual (if awkward) conversation. The problem is that "coolly" as an adverb tends to hold cold and unfriendly connotations. That wasn't how the author was writing Rainbow in that scene, so the word choice was off. There were several instances of this kind of thing. Also, ellipses again. Guys… What's going on? Am I crazy? What's with these spaces and uncapitalized words after ellipses? It's turning into a new pet peeve! And "alright" is not all right, at least not to me. I know language is always changing, and some institutions are sort of grudgingly accepting it, but I refuse. So there.
My Thoughts:
While my time in pony fic land has seen certain ships rise in my favor, I'm still rather open about ship fics (are you kidding? I read a RariPie and liked it) so I have no strong feelings against AppleDash. It's the first ship I tried, actually. But shipfics are very hit or miss with me to begin with. Ironic, since I prefer romantic reading or some element of romance 90% of the time. I'm just a snob about my love stories.
Luckily, Trial Run is pretty freaking good. I mostly skip AppleDash these days as I've moved on to other ships that better appeal to my personal tastes (TwiLuna and FlutterDash, anyone?) But this is good! Really good. The dialogue flows, the characterizations feel spot on, the plot feels natural and engaging… I think just about the only "bad" point I can lament is that this is one of my bottom tier ships, so my enjoyment is kind of permanently hampered. Still, I could read worse. Much worse.
There was even a pretty good undercurrent of mild humor. This isn't a comedy, but the exchange between Rainbow Dash and Rarity had my face split wide into a grin. It was genuinely entertaining seeing the two clash wills. That's all that this chapter really consisted of, but it made for a great read.
Final Verdict: I give this AppleDash romance my seal of snobby approval! +1 for Rarity putting her clean and feminine standards on the line to play cupid.
---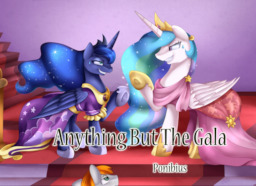 Anything But The Gala by Ponibius
Rating: Teen
Tags: Comedy, Slice of Life
Summary: Princess Celestia has hosted the Grand Galloping Gala for hundreds of years, the grandest party in all of Equestria and said to be without peer—and has hated every year of it. Now that her sister has returned to her, she hopes to share this painful royal duty. Shame for her that Princess Luna wants nothing to do with the Gala, or any of the other princesses for that matter. Luna is going to have to use all her wits and skills to stay one step ahead of her sister and be anywhere but the Gala.
Grammar: 5/5 - I'm pretty sure this person could give me writing tips. I saw nothing wrong!
My Thoughts:
I actually started this one when I first found it, but it failed to hold my attention at the time. Since I wasn't sure if it was due to my mood in that moment or an actual reflection of the fic, I set it aside for later. Now I'm finally returning to it. So what is really the case? Well, I had to start over just to be sure. And I just have to say...
Wow! This is a fanfic written by someone of considerable skill--you can tell because they are handling so many things at once (scene descriptions, character actions, dialogue) without neglecting anything. The writing is focused and very well-paced. The author knows a thing or two about comedic timing. As this is written in first person from Princess Luna's point of view, we get this formal, occasionally archaic, and often wry tone that is deliciously funny to read. Please forgive this really large excerpt, but I think it captures the soul of this fic very well. Princess Luna has just complained about a recent attempt at playing golf with her sister, to which Celestia replies:
"You didn't like it because I beat you."

"Only because thou hast far more practice at it than I," I shot back. The memories of how I had kept overshooting the green were not happy ones. It turned out that alicorn strength was poorly suited to the game. Though my sister was, of course, superb at the game after uncounted decades of practice. Just like how she was perfect at most things. I was not jealous; merely annoyed.

At least I had gotten a little bit of humor when I accidently pelted somepony with a ball. The fact that the pony in question who had been sulking in the bushes was Speedy Press, a tabloid journalist whom had written several scathing articles saying that I was ruining Equestria in some manner or another, had made it a very happy accident.

"Then perhaps we should do it again soon?"

"Neigh, I think not," I said in a disinterested manner. "Not when I would have to wear those hideous, uncomfortable clothes again."

My sister let out a patient sigh. "You just don't like plaid."

"Because plaid is a hideous color scheme." Really, I did not know why she had insisted so that we dress so strictly for the occasion. 'Tis not as though the outfit were needed to participate in the game. Also, the pants had been itchy. "Thou knowest I hate plaid."
You see that beautiful flow? The natural back and forth? I quite like that dry, witty banter. It had me smiling throughout. And I mean… Come on! Are you telling me you can't giggle at the mental image of Luna pouting in plaid golf clothes next to an annoyingly chipper Celestia? That's the best thing about Anything But The Gala...it trusts me to fill in the blanks! It doesn't hold my hand and lead me to punchlines. Just by the strength of its character, I am perfectly capable of finishing its thoughts. Good comedy doesn't need to spell everything out for you all the time.
Less skilled authors might have tried to paint the image I just mentioned for me. This would have weakened the hilarity of it. Sometimes, a picture really does say a thousand words, but my mind needs a chance to paint it on its own. Otherwise, I find myself stuck with someone else's attempts at forcing their ideas, and things might get lost in translation. Even unintentional comedy can be preferable to the author's vision. A writer has to be secure enough to be able to step aside and let that sort of thing have room to happen. Too often, I think stories try to desperately control our perception of their tale. This is a mistake. Some of my favorite books and fanfiction are the ones that allowed me the space to fit my headcanon and personal jokes.
Another great thing about Anything But The Gala is its interpretation of Equestrian government and aristocracy. The author did a top-notch job on world-building, and they illustrate a firm grasp of how they feel the land of MLP would operate. I love Princess Luna's characterization to crumbly little bits--she's haughty, and mischievous, and competitive. Celestia's portrayal as a conniving older sister might have been done to death, but it's a solid route to take, and it works well for this story.
Final Verdict: I'm rather surprised I'm saying this, but I think this one is going to have to go into my favorites. I very seldom add fics to that honored shelf so quickly (I didn't even finish this chapter--I only read the first 3k words!) but it's just so good. I cannot recommend this one enough.
---
Current To-Read Count: 178/184