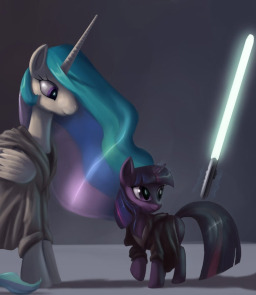 Yes indeed! To celebrate the arrival of the new Star Wars film, I've created yet another story! It tells the tale of Twilight Sparkle, a young mare living on Ultaar (an actual planet in the SW universe, BTW) who has mysterious powers. Long ago, her Jedi mother went on a mission in hopes of stopping the evil Galactic Empire that has ruled the galaxy for centuries. Her fate is currently unknown. It is now up to Twilight to escape the Empire, find her mother, and hopefully bring balance and peace to the galaxy....
Be sure to leave a Like and a Comment as well!
https://www.fimfiction.net/story/306563/star-wars-the-horse-awakens
The title is clever, right? Don't worry, there aren't any spoilers for the new movie here.