Note to zel: I think you will find this post boring and gay, so to you, I say this: penis.
---
I read these yesterday (both by PaulAsaran):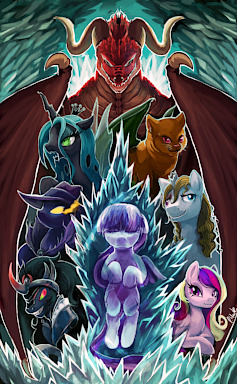 Twilight's Inferno
The cover art is a (somewhat minor) spoiler. Neat, eh?
Although I'm not entirely sure, I'm thinking that perhaps I should not have read them. Although they are well-written and quite interesting, they had an effect on me that I was not expecting. I suppose I was not expecting it because I've rarely encountered a story that can make me feel sad, even a little bit. The last one I can remember was a few years ago, and I can remember only 2 more some years before that (so 3 total).
I'd like to note that I've read many horse stories here, and I've often seen people commenting about how sad, happy, excited, etc they felt, but I did not (I certainly do not remember any where I did). Of course, I am by no means intending to imply that I am the only one like that—I am sure there are plenty of people who do not feel anything when reading whatever stories they read.
It's just that, for me, this is largely a new experience. No other story I've read (including non-horse stories) has caused me to feel this way (and it is worse because I like to avoid emotions, and hence lack experience dealing with them). Among other distractions, my sleep last night was (mildly) affected, and my fapping earlier was briefly interrupted (the horror!). I just can't seem to get it out of my head.
The first story, Twilight's Inferno, contains this warning in the description:
Some of the content in this story, particularly in a later chapter, have proven disturbing and upsetting for certain readers. Upon some discussion with others, it is clear that a warning beyond the mature tag is needed. This story is recommended to those who are serious about following Twilight through a very realistic hell. Don't do it lightly.
Additionally, regarding the editor, it says 'I also owe him an apology for the nightmare'.
It's my fault for not taking this warning seriously. I've seen other stories with such warnings, and this is the first time one has been relevant to me. I suppose it's about time one was.
Now, it is worth noting that the other story (Trixie vs. Equestria) has no such warnings. However, it is the one bothering me, not Twilight's Inferno (at least not on its own). I do not want to spoil anything for people planning to read either story, but I will say that I think it would have slightly less of an effect (although I'm not too sure) if I'd read Trixie vs. Equestria first.
I read one other story by PaulAsaran (Frequency), and although I will admit that 3 of 28 is a small sample of his work, it seems he quite likes tragedy/sad stories, and is good at making them.
I think, if I could make a different choice yesterday having read them now, I'd read only Twilight's Inferno and skip Trixie vs. Equestria. I'll also note that, if it were a different character (not Twilight Sparkle), my choice would be different. I quite like Twilight Sparkle (I sleep with a Twilight Sparkle stuffie thingy), which is why a tortured and mutilated Twilight Sparkle dying alone in a cardboard box in a dirty slum after going through an entirely undeserved hell bothers me more than it would if it were some other character.
I believe this story (composed of the 2 I've read) is another one that will stay in my memory for a long time. I applaud PaulAsaran for doing such a good job with them, at least in my eyes (I'm not a professional critic).
Also, I'm pretty sure the fact that I bothered making this post shows me how much I care about a fictional character. To you psychologists: is that a bad thing?
---
P.S. As for why I'm saying all of this and posting it here: these 2 short stories affected me in an entirely unexpected (to me) way, and I really feel like I want to say something about it. I am also attempting to be less lazy, and there are many topics I've intended to make posts about here. Obviously, I never got around to them. I may or may not go over this post later (I should, but I likely won't).
I also apologize for not spending much time making and organizing this post. I just want it done with. I think it's made me feel better, at least.
---
Side note: I've been reading a lot of horse stories here lately. While doing so, I've picked up and generated a lot of ideas that I like. I know I've never posted a real story here before, but I've recently been thinking about trying it. Anyone care to comment on my use of English in this post? I know that correct language usage is not the only important thing in a story, but it is certainly a big one. I've seen a lot of people screw it up, even in professionally published books, and I very much want to avoid all errors, large and small. Please critique this post.