Most of us who grew up in the 1990s remember an awesome book series called Goosebumps.


Goosebumps was so popular in the mid-90s that it even had its own TV series!
That theme is so awesome.
Everyone credits J. K. Rowling for inspiring a generation to read with her Harry Potter books, but R. L. Stine deserves some of the credit. It's a shame that his contributions to children's literature have been overshadowed by the success of J. K. Rowling and Stephanie Meyer. By the time Harry Potter and Twilight arrived on the scene, people had largely forgotten about Goosebumps.
Imagine my delight when I heard that they were making a Goosebumps movie! At last! A chance to do justice to an awesome series of books. And the film stars Jack Black... as R. L. Stine.

I know. They're practically twins, right?


All joking aside, I was a little concerned with the casting of Jack Black. Just look at this interview of R. L. Stine.
Who thought Jack Black was the right person to portray R. L. Stine?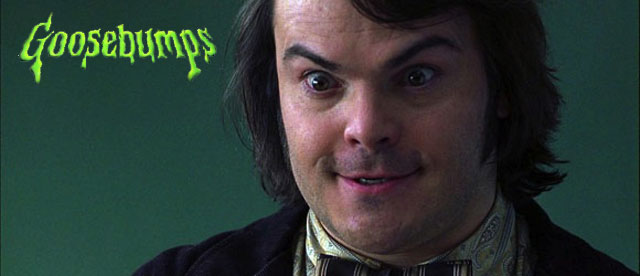 I suppose I shouldn't complain. R. L. Stine seems fine with the casting.


Apparently, the movie isn't going to be a biography of R. L. Stine. Instead, Jack Black will be portraying the creator of Goosebumps, who is a prisoner of his own imagination. His stories have come to life and the only way to keep his monsters from attacking everyone is to lock them up in books. When they manage to escape, Stine must work to return them to the written word before they wreak havoc.
I was underwhelmed by the premise for a couple of reasons. For one thing, R. L. Stine wrote more than 60 Goosebumps books. It would've been awesome to adapt some of the more famous stories into several movies, as opposed to cramming them all into one film. For another reason, this story has been told before. Anyone remember Extreme Ghostbusters? There was an episode called "Deadliners," in which there are spirits who enter the mortal realm through writing and have taken the form of villains from the stories of famous horror novelist J. N. Kline. (An obvious homage to R. L. Stine.)
This episode first aired in 1997; a whole 19 years before the Jack Black Goosebumps movie is scheduled to be released.
I probably shouldn't worry too much about the casting or the plot. As long as the film has a competent director, I'm sure things will work out alright. So who's directing the Goosebumps film? Rob Letterman?


What else has he directed? Gulliver's Travels (2010) and Shark Tale?


Strap in, folks. It's going to be a bumpy ride.
And for those of you who are curious, here are my top three favorite Goosebumps books, in no particular order.
Egg Monsters from Mars.


The Beast from the East


Deep Trouble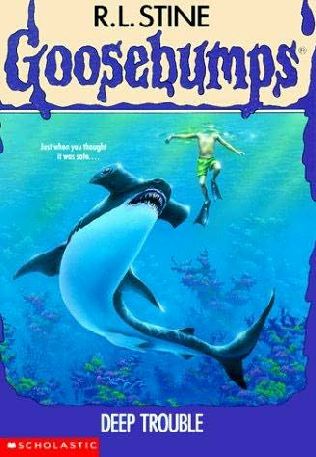 Feel free to share your favorite Goosebumps memories in the comments.