Those of you who read my October 2013 Rule 34 update may recall me mentioning world famous porn star Tasha Reign.


She was working on an adult film inspired by My Little Pony which would also serve as publicity for her line of "Pony Plugs."

Tasha's Pony Tales finds Tasha and three of her friends transported, after drinking a mysterious potion, to the enchanted world of Magic Pony Cloud Land, where they are anointed "anal plug pony princesses." Empowered, they set out to conquer the men of the realm.
Transported by drinking a magic potion, huh? I can't help but wonder if they saw the premiere for Season Four at any point during the filming.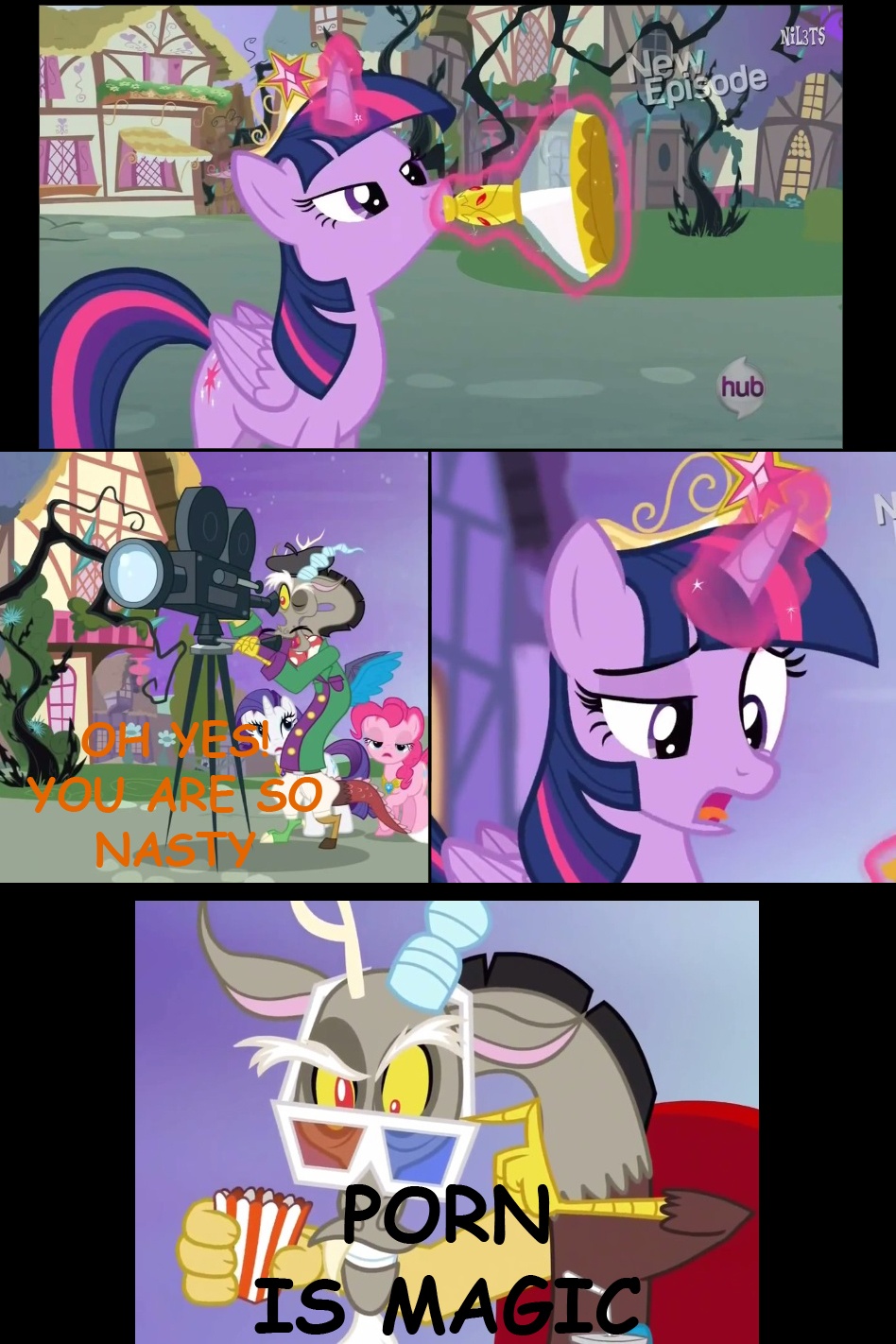 The trailer for Tasha's Pony Tales is available on YouTube.
I cringed a couple times during the trailer. Remember what Matt Damon said?
"My theory on action movies is that they're like porn movies. A porn movie has got really bad writing, really bad acting and really thinly drawn characters."
In spite of Tasha Reign's best efforts, this trailer was really difficult to watch. The acting, especially from the men, was just awful.
The Huffington Puffington Post recently released an article talking about Tasha's Pony Tales and the connection to the brony fandom was front and center.
Quoting from the article:
"Rising porn star Tasha Reign teamed up with sex toy manufacturer Crystal Delights to help bronies take their cosplay to the next level. Just put one on -- and you don't need adhesive, if you know what we mean -- and you'll look like you have your own neon-colored pony tail...

...Sexy? We say neigh. Still, "My Little Pony" has a following that fills convention centers, where bronies celebrate their love of Mrs. Cupcake, Twilight Sparkle, Princess Luna, and other four-legged friends.
I think it's funny that a side character like Mrs. Cake was included with Twilight Sparkle and Princess Luna. To read the article, you'd think that a majority of bronies want to walk around conventions while wearing anal Pony Plugs. I shouldn't be surprised. I gave up on the notion of our fandom being fairly represented in the media a long time ago.