So three days ago I decided to treat myself by getting a 3DS, Pokemon White 2, and Monster Hunter 3 Ultimate. I've been playing more pokemon than MH3. And I haven't played a new pokemon game since Gen lll. Pokémon Emerald was the first one of the pokemon series I played. I never got into the games before that, mainly because I didn't have a Gameboy. And after a while, and by that I mean a couple of years, I got kind of board. But hearing X and Y coming out and all the cool new features it's adding, I jut had to get caught up.
Some features I'm happy to see is the new Eeveelution, Sylveon. I like the add of fairy type. Yes, that's right, I like it! And before people start arguing that it shouldn't be around or whatever the reason people get butt-hurt about it is, you have to remember, nothing stays the same in a fandom. Eventually, something has to change, and at first you won't like it when you hear about it, but after a while you begin enjoying it, and eventually you accept it. Plus, I mean, look at this, it's great.


Never get tired of looking at that picture. I'm even excited for Gardevoir becoming a fairy too. She's my favorite psychic type and no dubitably in
the top five.
Another feature I'm excited for is MOTHER-FUCKING-GOGOAT!


Fuck you bikes, I have a new form of transportation now!
And let's not forget Mew-two's new form!


No long time pokemon fan such as myself can't not be excited for this. I matched the first movie at least a hundred times as a kid. It only makes me sad that we threw it away along with our VHS.
But possibly the one thing I'm most excited for is being able to sit on a bench.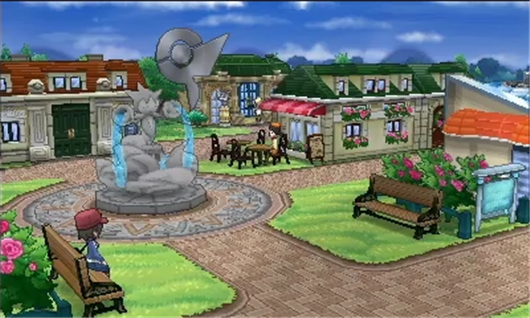 ... So beautiful.
So, now I'm playing White 2, and it's been so long that I've forgotten the magic and wonder of what being a pokemon trainer is like. I'm having so much fun on this adventure. I've currently beaten the first three gym leaders, I have my main party team, caught a few pokemon, and working my way up. I didn't even name my rival DOUCHE.
I've named my main party after the seven deadly sins. It consists of a Lv. 20 Onix (WRATH), Lv. 24 Dewot (PRIDE), Lv. 22 Psyduck (ENVY), Lv. 20 Roggenrola (SLOTH), Lv. 22 Lucario (GREED), and Lv. 23 Arcanine (GLUTTANY). My LUST (LUSTS actually, I have two) is currently in the box, two Lv. 18 Eevees, both a different gender. Now I don't have to get a Ditto to get more Eevees for all Eeveeltions. What else sitting in my box is another Riolu. I ran into four of them within half an hour, no joke. I looked it up and apparently finding one is less of a chance than finding Pikachu in Viridian forest. It's a 5%, what's more, the one in my box is female. You have a 25% chance that the Riolu you find is female. So we're talking about a 1.25% chance of finding a female Riolu, and I actually found it. I'm proud of myself.
So, that's what I've been up to. If you have any comments, you know where to put them. Adios.