I have a human-in-Equestria novel in progress, but something occurred to me today that made me think I need to revise it.
It occurred to me that ponies are creepy as hell.
There's an old episode of The Outer Limits, entitled "The Zanti Misfits," in which Earth is invaded by aliens who look like really big ants. Some military guys battle the aliens ants, some deaths happen, and the episode ends with one of those pop philosophy Aesops that characterize Star Trek and much of the television sci-fi that came before it. What really makes the episode memorable and makes it a classic of television is the alien ants' highly expressive, human-like stop-motion faces. The Outer Limits created some brilliant monsters with its shoestring budget, and those human-like ants are among the most famous. They are famous because they can make your skin crawl.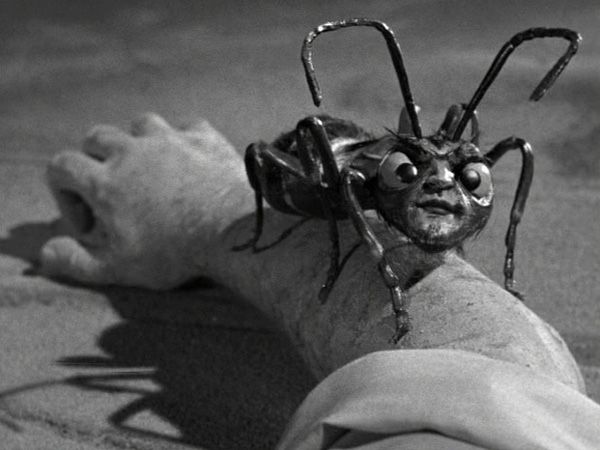 Man, that thing still gives me the creeps.
We humans have a funny mechanism, one for which, as far as I know, there is no satisfying explanation (though there are some creative crackpot ones): we get weirded out at the sight of human-like faces that are neither sufficiently inhuman nor human enough. Cartoon characters don't bug us, but realistic CGI characters can. Puppets or expressive but goofy looking robots are no problem, but those Japanese androids are hella creepy. That zone, where a face causes a feeling of dread, is of course the so-called "Uncanny Valley." Perhaps the earliest writer to note this phenomenon was the Romantic composer and author E. T. A. Hoffman, most famous for "The Nutcracker" and "The Sand-Man"; a highly sensitive individual, Hoffman found human-like automata unbearably disturbing and successfully used them as objects of horror in his work: the seductive woman-like automaton of "The Sand-Man" practically created a new genre, inspiring the woman robot of Metropolis, which has informed every android since. In Hoffman's story "Automata," a character discusses the sensation of dread he experiences upon seeing a clockwork sculpture (based on the famous Turk) play chess, and as he explores the nature of that dread, it becomes clear that what he is describing is what we now call the Uncanny Valley.
The Zanti of The Outer Limits are right smack in the middle of the Valley, and that's why they're such good horror monsters.
You know where I'm going with this. The ponies of My Little Pony have round faces, short muzzles, and large, binocular eyes. Their faces are half-horse, half-human. They don't bother us on the television because they're cartoony, but now imagine them in, as it were, the real world. Imagine a horse with a human-like face. It would be the equine equivalent of the Zanti: "ponies in real life" would not appear cute and cuddly, but really, really disturbing. It might take humans a lot of effort to interact with them successfully. I touched on this in "Brony Steve Makes Out with Fluttershy," but failed to explore it at length.
I think we need some Uncanny HiE stories.