Making a story on Fimfiction is a simple process but some elements of it might confuse you as a new user. This tutorial is designed to guide you through the process, making sure you can join the thousands of other users sharing stories on the site!
Creating A New Story
First of all we need to actually create the story. Look in the user bar at the top of your page and you will see a drop down with your name. By hovering over it and then hovering over "stories", you'll see the "new story" button. Click that and you'll be taken to create your brand new story.

There are a variety of fields to fill out for creating your story, but most are very self explanatory. Some fields have little question marks next to them which you can hover over to find out more about it.
Categorising Your Story
One field that might not be so obvious is the "series" field. You must select one of the MLP series tags to post your story.

By typing "my" into the text box we can see tags come up. Friendship is Magic, Equestria Girls, The Movie and The Comic are all tags that quality as MLP tags and will suffice for posting your story on the site.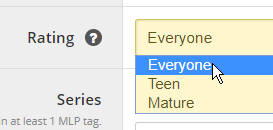 It's important you select the correct rating for your story. More information can be found on the tag information page.
Having Others Proof Read Your Story
Stories on Fimfiction must be approved before they can be seen by everyone. However, you can set a "view password" for your story which lets people view your story even while it is unapproved.

Users must be logged in to Fimfiction to be able to enter the password and view the story. Link them to your story page and they will be greeted with a login page where the password can be used.
Choosing What Feedback To Receive

By default, stories can be rated and commented on by other users. You can disable this functionality for your story by changing these options. Note that by removing ratings, your story cannot gain "heat" which the site uses to identify popular stories to place in the featured box on the frontpage, so there is a downside to disallowing ratings.

Stories on Fimfiction can be added to groups by other users. By default, any groups your story is added to will show next to the story on the story page. If you wish to stop a group showing, you can blacklist it from that list. By toggling the "feature groups by default" option on the edit story page, you can reverse this behaviour so groups do not automatically show up and you must manually approved them.