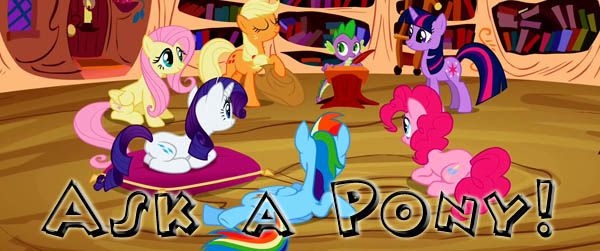 The Elements of Harmony have decided to offer advice to other ponies, griffons, mules, cows, humans and any other creature capable of more-or-less sentient thought!
Just ask them a question about life, friendship, love, the best time for planting, how to keep a nice sheen on your wings, the proper etiquette for an airship launch, or anything else they can help with. They do love to help. (The ponies are not answering personal questions about themselves at this time.)
How do you ask a pony? Submit your request for advice here: Ask a Pony!
The Ponies Answer:
Part Seven... coming soon?
Short Stories I Wrote
Chapter Fics I Wrote -- Complete
Collabs I'm Part Of
Blog Posts I Wrote
If you're looking for my most recent blog posts, click here!
I blog, a lot. And I know there are a few blog posts I wrote that people like to link to or refer back to. So here's a list of posts I've made that seem to get attention, or that I'm proud of and think people should read.
On Writing:
bookplayer states the obvious - in which I give myself (and anyone else who needs it) a lecture on what a writer can control.
To the reviewers and the reviewed- Writing advice for reviewers, about how to make authors want to hear from you, and for writers on when you should consider ignoring a review.
Tell, Don't Show. Yes, you read that right- Examples of some times where showing isn't the best thing for your story (no matter what EqD might tell you.)
How to Win Friends (And Influence Ponies?)- On why you should be writing blog posts, too.
The Writing Skill that Nobody Talks About- How to sell out in a way that's worthwhile.
Names for OCs and Background Ponies- A collection of pony names taken from paint chips. Paint colors make great pony names.
On Shipping:
The Gone With the Wind approach to shipping - Where I explain why I really don't like FlutterDash, and am not nuts about RariJack, and list the ships I do like and why.
The one thing all romance/ship fics need to have - in which I discuss the importance of talking about stuff in a relationship.
How to recruit people to a ship- Where I admit that any ship can work, and explain how.
The intangible character in a romance- What if the ship itself is a character? Some thoughts on a different way of looking at ship fics.
Similarities and Differences in Shipping- A sequel to "The Gone With the Wind Approach to Shipping," that goes into how various kinds of similarities and differences are important.
Bookplayer's Guide to Shipping Etiquette- My guidelines for what to post where, when it comes to the controversial subject of shipping.
On the MLP:FIM Shipping Survey:
Shipping Survey Results: Round 1- The Ships!
On Ponies and Fandom in General:
You like a girl show and that is SO AWESOME! - In which I compare ponies to classic girls book heroines.
My unsolicited thoughts on Rainbow Dash being gay - In which I rant against people who insult other people for thinking that Dash is/isn't gay, and give my own view on the subject based on Dash's personality.
My thoughts on canon, fanon, and Word of God- Um, what it says on the tin.
A thought about Twilight's change I haven't seen a million times before- My opinion on why Twilight might have needed wings.
Why Applejack is Awesome and Deserves More Fanfic- Where I outline how many interesting things there are about Applejack, so that people stop saying she's boring.
Five good reasons the best fics in fandom are not on EqD- Without bashing EqD, I point out why it misses a lot of good fanfics.
My Probably Incorrect Unified Magical Headcanon- A take on magic in Equestria that tries to take into account and explain everything we know from canon about magic and history.
Fanfic News That Doesn't Affect MLP Yet- My reaction to news that Amazon.com is going to start legally selling certian kinds of fanfic.