In case you didn't get that, there are going to be some spoilers.
TURN BACK NOW
So, I was floating around Derpibooru and I found this:
"Wonder how they are gonna spin this. "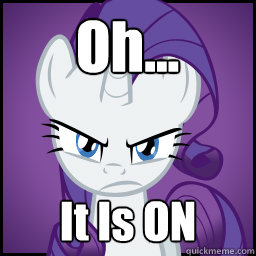 Psychology student mode: ENGAGE
Yes, she can still be seen that way.
It's due to the fact that her ego defends itself from anxiety in the following ways:
1)Repression (Putting past troubles/bad memories deep into her unconscious mind so she doesn't have to deal with them)
2)Projection (Blaming it all on Twilight/Ponyville and coming back to beat her in order to restore things to what they were before hand.)
3)Denial (Acting like it never happened. Hard to do when your house gets crushed.)
4)Displacement (Venting the anger on something else, eg: Blasting rocks with magic)
From what we can see in this screenshot, she is clearly choosing number 2 (Blaming Twilight/Ponyville).
But now we must wonder, why?
Why does she want to do this?
There are two possible reasons:
1)Payback for her House been destoryed
2)Revenge on them for destroying/ setting back her stage show and cutting her off from attention.*
(Or a mixture of both)
But why does she think that's the right thing to do?
1)Corrupting from the amulet (Made from Sombra's magic?)
2) Her Superego (Conscience/ sense of right and wrong) was formed differently.
Eg: Been mean to others and been arrogant was encouraged so she sees it as the normal thing to do
3)Family heirloom/ gift from mother/father was in the wagon and got destroyed and it re-awokened old painfull memories and she's been driven by anger and grief.
*Why is the attention from the show such a big deal?
Well, if acting out/shouting was the only way to get attention from her parents, then that behavior would be reinforced.
Likewise, if magical talent (Tricks) were the only ways to get attention, then she would keep doing that.
(Or even a mixture of the two)
Then again, there is the possibility that she didn't receive any attention as a child. (Parents passed away/medical issues/they were drunk)
This coupled with seeing the attention that magicians got (passed a stage show/ snuk into a circus) would have caused her to see that as a way to gain the love and attention that all children crave. (Ran away to the circus?)
This would mean that her behaviour when we first saw her, would seem normal to her and the mane 6's rejection of her act, wouldn't have made sense, so she would have classed them as being jealous/hecklers.
And no, it's not "spinning a tale" it's Psychology.
And that, my friends, is how you shut a Background pony (Anon) up.
Psychology student mode: Off
And my two cents to the whole thing.
Also: