Dear Hannah,
I am addressing this letter to you, on my blog, for the readability of a thousand strangers who will probably not for the life of them understand what the hell Im talking about for one reason and one reason only.
Because I'm flippin' crazy.
And also because I said I would embarrass you. But oh ho ho, you didn't see this one coming, now, did you? And for the sake of total honesty, neither did I. I was going to just write you a normal little letter and send it to you like a boring-ass bitch, but as I was hovering over the idea, the hand of Jesus descended on me and pushed it out of my head.
So this letter is to you, because I have no idea what in the great, hairy, everloving fuck I'm doing, but I'm already two paragraphs in, and I can't tell the team to turn back around. We're in too deep.
I have spent enough time around fifteen-year-olds to know that that is, without a doubt, the worst age to be. And I'm not talking about the one who IS 15. I'm talking about the poor sobs who have to endure you, while you ARE 15.
It's a real bastard of an age, I won't lie, but everything ends (even though, man, I saw that Nikki Minaj won Best Rap Artist just now and I wept softly, knowing that some people, namely those who nominated her, never grow out of the age of 15).
But you, my friend, have got to be one of the coolest 15-ers I have ever met. You are fun and sweet and adorable, and I'm sure if anyone can make this hairy Satan sack of an age wonderful, I know you can.
Now, here a few pieces of advice, from my infinite trek along the road of failure to you.
-Otter pops are the master race of summer treats, but don't try to open them with your mouth, because that plastic is razor-sharp. "You wanna know how I got these scars...? ...Yeah well, funny story, I thought I could be cool and open an otter pop with my mouth, hah, boy, I'm not doing that again."
-Always appreciate new erasers. There is nothing nicer than a freshly-cut eraser, before it gets brutally murdered for your sins. What I'm trying to say here, is erasers are jesus-tier.
-NEVER touch a cat's belly. They are the cutest little assholes, but they're still assholes, and they will frickin' maul you. Look at this soulless little shit.
-When someone says hi to you and you can't figure out who in the name of calculus they are, say, "Oh hi, it's good to see you!" And get the hell out.
-Never own a Twitter. Never.
-If you screw up something minor but embarrassing, always laugh about it, never get upset, it'll feel worse if you do. That's actually a legitimate piece of advice.
-Take a little time to appreciate things. Appreciate how wonderful technology is (do you ever stop to think about tablets? They're just little sci-fi futuristic-ass slabs that DO THINGS WHEN YOU TOUCH THEM), but don't forget the magic of nature. It sounds cheesy, but I don't think there's any time quite like when the sun is just setting and the light turns gold, and everything it blankets looks amazing.
Best of all, just enjoy life. Don't worry too hard about anything, because worrying is just a chemical reaction in your body, and will solve none of your problems. NOTHING, ever, is as bad as your mind makes it up to be, but we always realize that too late, when we've already wasted a week worrying.
Here are my favorite places in the world, I always like to think of them when I want to remember what's really important.
Lake Silencio, Utah, (aka Lake Powell; mama didn't raise no fool)
Ha Long Bay, Vietnam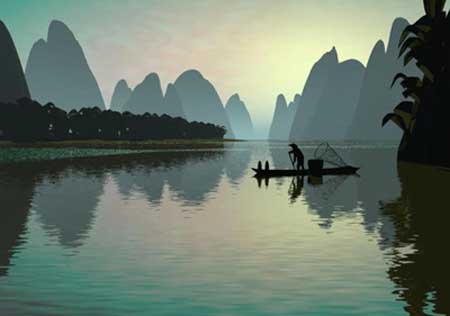 The Moss Bridges of Ireland, when the leaves turn pink
And the Mirror Salt Flats, Salar de Uyuni, Bolivia
Just relax, have fun, and have a great year.
And here's "Hannah is the best ever!" in circular Gallifreyan, because you and I both know what's up.
Happy birthday. :)
-TC