Dear Loyal Watchers, Interested Visitors, and Confused Passersby:
You may have noticed a certain subtle change has come over my avatar in the last day or so, and those of you who have (much to my own surprise and wonder) have been my Watchers over the last three years certainly know what it means when Ol' Crow Face suddenly appears with a splash of red and white upon his noggin'.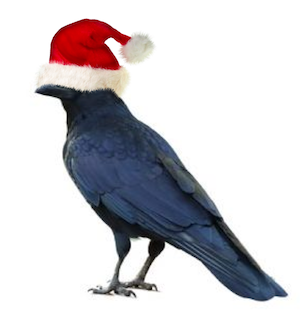 Yes, I'm aware that it covers the raven's eyes. No, I was not aware of that when I added the hat. Yes, it is probably why he looks so non-plussed about the whole thing.
I remember being very apprehensive when I first asked the good denizens of FIMFiction back in December of 2012 if They Would Consider a Santa Hat. I don't know if I was the only person wearing a Santa hat at the time, but they must have been very scarce to say the most. It really, really, really wanted us to do something collectively that brought a smile to a lot of people's faces... and something that made that "golden glow of Christmas" appear on the site.
I certainly wasn't disappointed. You guys all came through for me, and I love ya for it.
Last year, I asked If You Would Consider a Santa Hat once again. It had gone so well the year before, and I was really hoping that we could recapture some of that magic.
And, you know what? We did. We really did. FIMFiction suddenly became that much more festive, and we passed a pleasant Christmas in each other's company, doing something together... a fan fiction side-of-the-fandom-wide inside joke that we could all share in, one that I hoped we could all enjoy.
I certainly wasn't disappointed. You guys came through for me, and I love ya for it.
So, here we are once more! I spent a work-less day outside stringing up my 2,000 or so Christmas lights, and the season has pervaded my senses. Advent has crept around again, and last night I sat down to compose a blog asking, in my traditional style, for us to once more "don the red and white miter" in celebration of the coming of Christmas or whatever other holiday you choose to mark the passing of another year of Pony fiction writing.
But, as I did, the site updated, and I lost the blog.
Sigh.
This hasn't been the easiest year for me, and it's shown itself in my output and contributions here in the fandom. In 2011 I released twelve stories. In 2012 it was eleven. In 2013 I released six. This year? Three. Just three. I had hoped to do better, of course. I don't mean to complain, but this year has been tough... really, really tough. It could be about to get worse.
The only reason I bring this up is because I'm asking you once again, my oldest Watchers and co-conspirators, and now my newest Watchers and freshest accomplices, to make a Santa hat appear on your avatar. I am asking you once again to make people's comment fields and "Followers" and "Watching" fields erupt in a festive cacophony of yuletide merriment.
I'm asking you to make Knighty ask himself "WTF? Again?!" when he checks his inbox. I'm asking you to help me make eyebrows arch and smiles erupt across faces. I'm asking us to once again show that fan fiction authors and readers are really, really fun people, and people who enjoy doing stupid stuff together, and who enjoy being in this fandom and community. I'm asking you to create blogs of your own asking (imploring!) others to do the same. I'm asking those who "know how to make computers work good with transparent gifs and stuff" to lend those who don't a hand.
But, something just a little bit different this year? Please?
Could you do it for me, for your old buddy T.D., for Descy, for Ol' Crow Face? I could really stand to see it... I could use a little Christmas, right this very minute.
I'm sure I won't be disappointed. You guys always come through for me, and I love ya for it.
Stay Awesome,
and a Merry Advent,
-T.D.
P.S. Don't forget to ask people to join us by posting a blog yourself! Also, here's a couple links to the pages with transparent Santa hat gifs that I've used in past years. I hope they serve you well! The pages are: