I'm pretty sure this is the wrong day for such a picture but I needed artwork wherein Sweetie Belle was the focus. It seems that the majority of my artwork and comics though with Sweetie Belle in them are either SweetieSpike shipping artwork, or Cutie Mark Crusader artwork (which usually has a focus on Scootaloo, if it focuses on any of the Crusaders). So yeah, chose this one because it was funny and had Sweetie Belle in it... oh, wait! I found an even more appropriate one, though I do like this one already up... I'll just use both!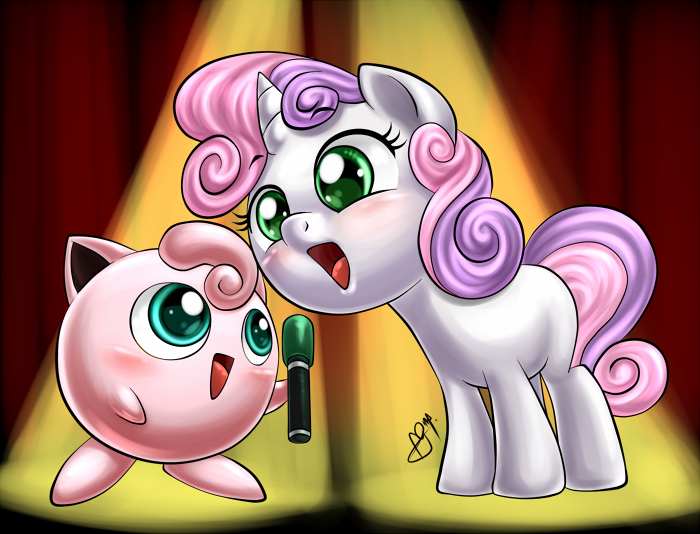 I apologise that this has come so late. Despite my proclamation of my return, it was certainly poorly time as my usual on-and-off job has become entirely on, often exhasting me and I've recently not been in the best of health. The only bright side to the destruction of all my free time is that I've easily got a grand in the bank and more to come... which I don't really care much for, I usually spend most of my money on either food or taking the family out for meals. This certainly does not help any attempts I have made as of late to lose weight. Anyway, here then is a review of one of two Season 4 episodes of My Little Pony: Friendship is Magic that I happened to miss, and I tell you, it was not easy to find. Enjoy!
Episode Review of For Whom The Sweetie Belle Toils
Lesson to remember; don't miss out on episodes, watching on Dailymotion rather than livestream or YouTube is extremely annoying. I mean really irritating, I had to stop every 3 minutes or so to let it buffer, regardless of how much time was spent waiting for it prior. Anyway, I've seen it and now I'm to review it; here is my review of For Whom The Sweetie Belle Toils.
The episode starts with Rarity busily working on an order from Sapphire Shores, something that Sweetie Belle has helped with. Sweetie Belle then hesitantly asks Rarity for a favour in patching up some dresses that Sweetie herself had made for her and the other Crusaders for an upcoming play… that night. Rarity makes the costumes in time and Sweetie and the crusader's play is a success, except it's only because the audience were impressed by their costumes and none of them cared for the writing, acting, or directing; namely all the parts Sweetie Belle worked on. Feeling overshadowed, Sweetie Belle damages Rairty's order for Sapphire Shore, only to then encounter a familiar princess of the night within her dreams.
Okay then, now what was good about this here episode. Well I usually start these positive sections with the opening scene provided it was good, and it was good, nice interactions, sets up the next scene as well as Rarity's plot throughout this episode, and also shows off the animation.
That just so happens to segue into my main positive of this episode; animation and overall design. Now season 4 really improved the animation of the series; it's hard to point out the specifics, but overall character animations are better, background, settings, lighting, and it truly shows off its stuff in this episode. The opening sequence had brilliant facial animations, the costumes are nicely designed, lighting or the lack thereof is stunning, and the dream sequences are just terrific. The episode is a marvel on the eyes to watch, and a lot of the setting helps build atmosphere all on its own. The musical tones and pacing also do a good job of it, though I do feel the design truly makes the scenes come to life.
There are also quite a few funny moments here and there, real small things such as the way Apple Bloom says the word 'classy' or a 5 year old Sweetie Belle landing flat on her face. Also, there is this one line of Sweetie Belle's within her dream sequence which is just fantastic, a joke that had me guffawing. The sequences of the later half also have some pretty good scenes; mostly a nicely done chase sequence and a quite sweet ending.
Despite it's good qualities though I will admit that the episode overall isn't too impressive. It's less a matter of it being bad but rather lacking in impact. The episode concerns the relationship between Sweetie Belle and Rarity much like a previous episode, the incredible Sisterhooves Social, but it lacks the same charm or strength. I never felt myself pulled into the dilemma, the atmosphere as thanks of the animation, yes, but never the actual plot or story going on. Sweetie Belle is cast as completely unsympathetic, and unlike in the far better Sisterhooves Social where there was a balance between both sides; there is none here.
Comparing it just to Sisterhooves Social does seem rather unfair, even with the episode feeling like it was intended to be made to capture the spirit of that episode. Other problems are existent; such as how we never got to be able to witness the quality of Sweetie Belle's play. From the opening lines I heard, it sounded good, though it's later implied to bad. Then again, if the play was presented to be good and yet still Rarity's dresses overshadowed Sweetie Belle that would give a little more rationale to the level of Sweetie's duress. I guess I could add on another note that one of the sequences has Rarity symbolised via a rain cloud, though I personally feel that a bright sun would've worked better for the symbolism as it was Rarity being too good which causes Sweetie to feel undervalued.
There is also one scene which turned out rather unfortunate. Those who've read my fanfics will know that I love the blend of light hearted and serious elements within a story, but combining such qualities is not always an easy feat and you have to be careful with how you transition from one to the other. What you should not do is try and mash them up together, as within this episode there is a scene wherein Sweetie Belle witnesses a bleak future for Rarity and starts crying out for it to all stop… except the bleak future Rarity scenes are played for laughs. The whole thing just becomes rather jarring, particularly with how scared and desperate Sweetie Belle sounds throughout it.
Overall, For Whom The Sweetie Belle Toils is not a bad episode, it's just not a very impressive or memorable one outside of some of the most gorgeous animation within the series. It has its moments, a good laugh here and there, some wonderful interactions between the crusaders, and even with Spike, and it does end on a high note. I just feel a lot of it to be rather weak, Sweetie Belle's and Luna's interactions should've been the cornerstone of the episode but I honestly found them quite forgettable. Sweetie Belle is unlikable throughout the majority of it, and only okay in the remainder, and the episode kind of hits that average lane of things, though a high average. It didn't appeal to me a great deal, though I could see how others may like it more as it does have strong aspects, so I shall give this episode 5 out of 10; an Average episode in my opinion.