Greetings, one and all. Now I know that I should probably be busy writing my stories, but having just seen the trailer for the upcoming Equestria Girls, I felt that I should give my two bits on what I thought.
He's kind of desperate for attention, you see.
It's a real tragedy.
Oh, hey Games and Fest, you want to share your thoughts on the trailer as well?
Sure, it's not like we've anything better to do since you hit a snag with our story.
Yeah... so, for those of you who haven't seen the trailer yet, here it is.
*one minute and nine seconds later*
He... hehe... hehehe
Fest... hey, are you ok?
I mean... they did... and she's... hehehe...
I think she's down for the count on this one.
*sigh* Wonderful... So, Sam, care to tell the readers how you feel after watching the trailer?
You know, I feel surprisingly relieved after seeing this.
What? Why?
Simply put, everyone was freaking out about Equestria Girls mainly because we knew so little about it. All we did know was that it was going to have our favorite characters portrayed as humans in a typical high school show setting which, as some of you may or may not know, is my least favorite genera of show. Mainly because television can never portray high school properly - they always have to exaggerated the setting and use the same five basic character models in every story. You know, the jock, nerd, queen bee, techno wizard, and girlfriend. And unlike other genera, I rarely see any sufficient changes to the characters to make them unique.
Um, I hate to interrupt your rant, but didn't you say that you felt relieved?
I was getting to that, yes. The reason I feel relieved is because now we know that this will not be a spin of show at all, but rather a movie that has Twilight go into the human world where people seem to have strangely coloured skin. I will admit, this is a little odd.
Why?
For some reason, whenever humans are made with unnatural coloured skins in animation it always looks wrong to me. To this previews credit, the skin on the main six is decent, for the most part. Rarity looks a little too pale, however, and Rainbow Dash is a walking corpse.
Ok, now you're just being silly.
You look at this thing and tell me she doesn't look like she belong in the ground.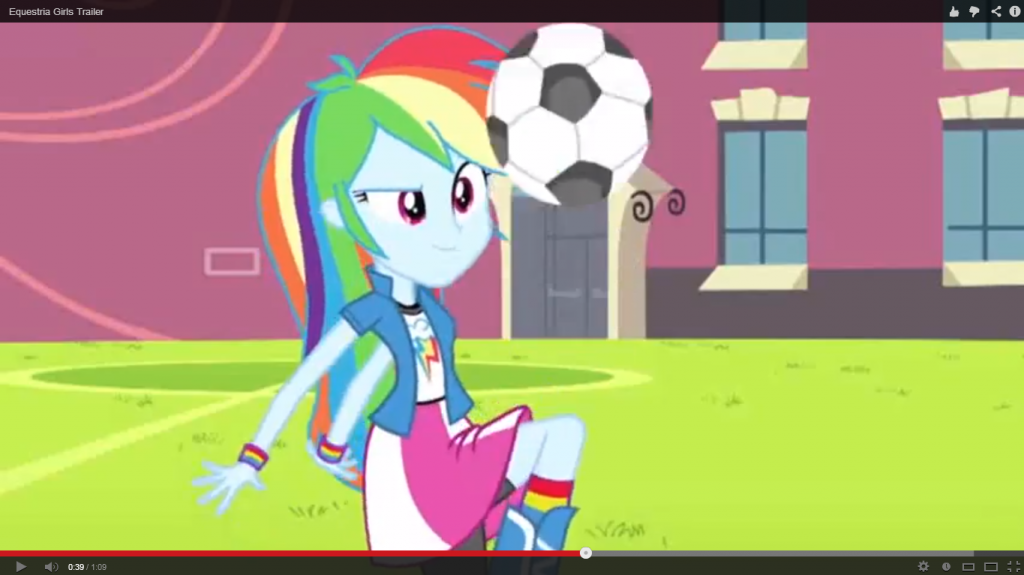 ...Ok, fine, but you're getting off topic again (incidentally, this is why he's such a terrible writer).
Right. Anyways, I think that having Equestria Girls be a movie rather than a tv series is a good thing. Hasbro stated that they wanted this to be aimed more towards the young females who were the original target demographic for the show. And that has been the drive behind so many of Hasbro's decisions for the show, a fact that many seem to forget. We were never the targeted audience, though I'm sure our added contributions to Hasbro's pockets was most appreciated. As such, I personally feel they just wanted to make something to get them back in touch with the intended audience, and a film is the perfect way. It can happen, make them money, and have little of an impact on the Brony fandom who really don't seem to want anything to do with the film at this point.
Why's that?
Well, as with any major fan base, ours has not been very open when changes have been made in the show. The Twilight Alicorn is a perfect example of this, as it sent so many people into an uproar over something that, really, isn't that big of a deal. In the case of Equestria Girls, it's the fact that there characters are all human and on Earth.... in high school. Again, these reasons are justifiable for people to worry, but everyone's hating it without even giving the movie a chance.
Now that is funny, considering how many Bronies have made humanized version of us.
Yes, we are a rather odd fandom, aren't we?
Yes you are. Now, how about your thoughts on the plot in a little more detail?
Ok. I will admit, there are a few things in this that make me roll my eyes. The villain is not really portrayed well in this trailer; she currently comes across as nothing more than the stereotypical queen bee that I already said I hate, who obviously is picking on the nerdy new girl in school because she's new. Not to mention that her motivation is to become Prom Queen - this is as basic and stupid of a high school stereotype as you can make. Spike becoming a dog was, and still is, a really degrading concept. He's just as equal as the ponies - and even in some situations more insightful - yet they are reducing him to pet status. Then there's the plot point of Twilight losing her crown, which is apparently what made her go into the human world in the first place according to alternative sources. This is pretty weak, but then again we have so little information from the trailer that I can't say much more. Also, I think that the idea of them going into the human world is actually good.
*spit take* What?!
Oh yeah, I have always thought the concept of the ponies on Earth fictions was fun - mainly for the same reasons as the humans in Equestria. The adaptations to the customs and lifestyles of a new world can lead to a great mix of comedy, drama, action, mystery, and so much more. Plus, when you combine that with the characters transforming into something else - this case humans - can just leads to a greater potential for these things. I'll admit, the scene with Twilight eating the apple with only her mouth was funny.
Hehehe, I bet you're going to be there opening night, eh?
Most likely not. I might go and see it in theater with a younger relative or my Brony sister, but more than likely I'll see the movie when it's out on DVD. Then I can give a proper review.
Can I come back?
Sure you can. Oh, speaking of, what was your thoughts on the trailer, Games?
Me? Well, seeing these well known ponies as humans was a tad strange, but it did look funny with all the visual gags. Vinyl Scratch as the DJ was nice, but those three fillies being in what looks like a high school setting is a little weird. Overall I think it just looks meh.
Fair point, and of course, because this is the trailer I don't think we can make any more of a report until the movie is out.
Agreed.
Then I'll see you again for the next time we do this?
Sure! maybe the folks at home can even give us suggestions!
Maybe, and speaking of them, what are your thoughts of the Trailer? Leave them in the comments below, and we'll see you next time.
Maybe Fest will even be able to participate.
Maybe.