DAAA-DA-DA DAAAAAAAAAAA
DAAA-DA-DUUUUUUUUUM
DAAA-DA-DA DAAAAAAAAAAA
DAAA-DA-DUM DUM DU... oh. Sorry, I was trying to sing the Indiana Jones theme song. Guess that doesn't translate well to text.
Yes indeed, today I am reviewing "Daring Don't," the second of the Indiana Jones parody "Daring Do" episodes in MLP, with the first being "Read It and Weep" in season 2--y'know, back when MLP was still good enough that I didn't have to make these damn reviews. Ah, those were the days.
So it starts off with Rainbow Dash hyped up for--you guessed it--Daring Do. Apparently the new Daring Do book is coming out in 4 months and Dash is so hyped for it that she can't control her excitement and even crashes into a damn bird's nest. Geez, I'm not usually that excited for something until the 3 weeks before it arrives.
Then 5 days pass and Dash is still really excited for it. It's almost like the Harry Potter fans!
Dash joins her friends in some sort of holiday part for a holiday that I'm guessing Pinkie just made up so she could throw another party. Unfortunately, Twilight reveals to her that the release of the next book got pushed back another two months because the author, A.K. Yearling couldn't finish it for another two months. Wait, so the author's name is A.K. Yearling? Like J.K. Rowling--nah, I already made one Harry Potter joke.
When Twilight reveals to Dash that she knows everything about A.K. Yearling--a little creepy--Dash asks her if she knows A.K.'s address. The rest of the group decide to be the ever-loyal fans and NOT give the author any privacy and instead go and invade her house and bother the living hell out of her. Mom, dad, stepdad, uncle, if you're reading this, I'm looking at you!
In typical Indiana Jones style, they travel across Equestria as their path is shown on a map. When they go to the house, they realize that it has been broken into and break in themselves, but A.K. Yearling finds them in her house. Of course, she assumes that they were the ones who trashed her house, but is relieved once she finds some strange gold ring which I'm guessing is supposed to resemble one of the rings from Sonic. Dash tries to rush her into this by pushing a typewriter in front of her for her to write on--and yes, it only has two keys on it. How could you ever write on that? Your guess is as good as mine.
So Twilight starts to lecture Dash about how A.K. wants to be left alone, but three thug-looking ponies break in and corner her in a room. Right about then, she throws off her disguise and reveals to the audience that she is, in fact, Daring Do, this time NOT voiced by Ashleigh Ball. (BOOOOOOO!) I know, I know, you can buy your pitchforks and torches at www.somuchbutthurt.com.
A fight scene starts and Daring drops the ring into the fire. Just like Indiana Jones! But she pulls it out with her whip and pours punch or something on it, extinguishing it enough that she can grip it in her mouth, but it is eventually caught by Dr. Caballeron, our first antagonist, who I guess is supposed to be a parody of René Emile Belloq from Indiana Jones. He reveals that he's going to sell it to Ahuizotl, the antagonist from "Read It and Weep", and make a profit on it from which he will retire from archaeology. Daring injures her hoof in the fight, and because of that, the main 6 try to help her, but she insists that she works alone. But then Dash and Twilight get into a fangirl argument, leading the main 6 to A: Go home and rethink their lives; B. Eat some pizza; C. Blow their money at Las Pegasus; or D. Try to help her! If you guessed D, no shit Sherlock.
So Dash decides to go on ahead without the rest of them, and her fangirl mode gets into an inner conflict with her normal mode, culminating in her actually punching herself. But when Daring makes it clear once again the she doesn't want any help, Dash makes it clear that she doesn't care and helps her anyway.
Daring disguises herself as a stallion with a fake beard and puts on a low voice to attempt to buy the artifact back from them, but around that time Ahuizotl comes and tries to take it for himself. Dr. Caballeron and his goons get out of there, but Daring and Ahuizotl have a battle of words during which Dash makes arguably one of the strangest faces ever: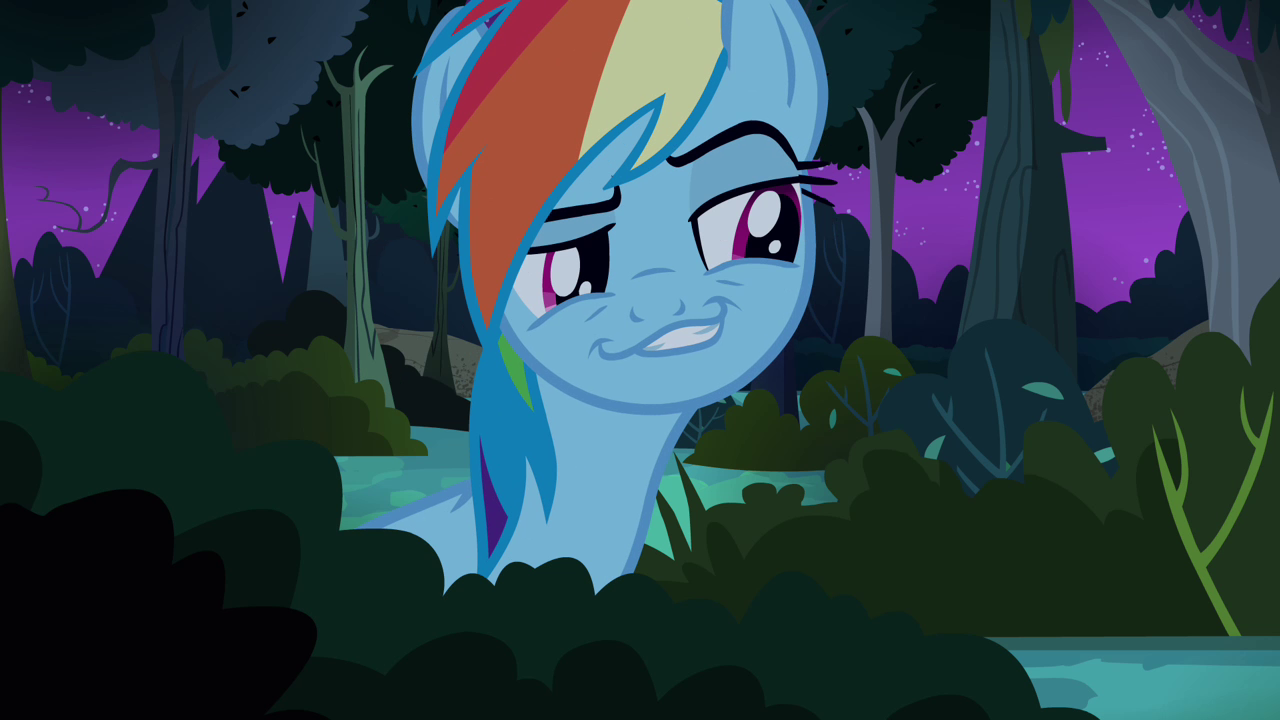 But Ahuizotl uses his army of "lions and tigers and bears, oh my!" to capture the artifact and Daring, who again insists that she doesn't want any help from Dash. Dash is depressed because she screwed up, but Twilight tells her that "there is more going on here than meets the eye". (Insert obvious Transformers joke here)
So after lecturing Dash the rest of the main 6 convince her to go in after her. I swear, there's more talking in this than a single Indiana Jones movie. Just get to the action already!
Ahuizotl puts her into another overkill death trap, just like in "Read It and Weep." And just like in "Read It and Weep," she breaks free of it pretty easily. Only this time, Dash helps her by flying her to safety, and by giving her hat back, which I guess she lost somewhere along the line?
Ahuizotl prepares to do the death ritual, but the rest of the main 6 try to stop him. No, don't do that! If you'd let him continue, we might get to see a scene where he gets his face blasted off and they all die, like in Raiders of the Lost Arc!
So they fight over the ring again in what I have to admit is a pretty creative action sequence. Meanwhile, Daring and Dash pull the rest of the rings off of the death ritual device thing, causing the temple of doom to begin collapsing. As they're running, we hear... a Wilhelm scream? Really? Fucking hell...
The building implodes on them, and Ahuizotl swears his revenge... wait, how is he even alive? Wouldn't he be dead if the building collapses on him?
Daring thanks Dash for her help and Dash hugs her. Uh-oh! I hear a sound! It sounds like... SHIPPERS! My god, they'll have so much fun with this episode.
Then Dash reveals the lesson this, which I guess is supposed to be: "Indiana Jones is awesome! Again."
A lesson I can agree with. Of all the episodes in season 4, this may be the only one that I've actually liked so far. I'm giving this one a rating of 3.5/5. While I feel it could have been paced better, and the revealing that the writer was actually Daring Do all along was a bit dumb, this was just pure fun.
WAIT! No, that can't be my final prognosis. I mean, I've gone through this entire episode without criticizing it enough! There's got to be something that I... GASP!
I just realized... Twilight was slightly taller than the other ponies in this episode... and her horn was slightly longer! Does this mean... she'll turn into an alicorn similar to... CADENCE?!
No... that's not true... that's impossible!
...
HAAAAAAAAAAAAAAAAAAAAAAAAAASBROOOOOOOOOOOOOOOOOOOOOOOOOOOOOOOOO!!!!!