Pinkie Pie Gets A Credit Card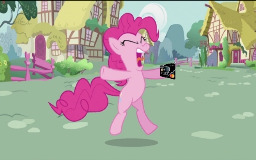 [Everyone] [Comedy] [Slice of Life]
When Pinkie Pie gets a credit card, she wants nothing more than to use it to buy lavish gifts for her friends.

So, that's exactly what she does.
---
This story was written in October 2012, which is roughly the same time I got a credit card of my own (a decision which I still regret to this very day). I wanted to write something with Pinkie, as I never really use her all that often in my stories, and this seemed like a good way to finally make use of her in my work.
This was also the first story I submitted to Equestria Daily, back when they had their 'three strikes' system. Each time I submitted the story, it was rejected with a list of things that needed 'fixed.' I made the necessary changes and sent it in again, only for a different pre-reader to reject it and give me a new list of things needing 'fixed.' As a result, three versions of this story exist; you can find each of them here.
I have nothing against this story, but I feel that I could have done so much more with it. In hindsight, I probably should have used Rarity instead of Pinkie Pie.
That's all for now, folks.
Sound off in the comments if you have any questions, and stay awesome.