Oh goodie.
Today it was a balmy 0 degrees F (approx. -18 for you metric types) with a -30 degree F windchill (-34 C). Fun fun, oh, and I had to walk into the wind for a good portion of my trip to my classes. It's a little chilly inside at my place, though I'm sufficiently dressed for that to not be a problem...except for my hands. You can't exactly wear winter gloves and use a keyboard effectively.
NOW! Onto other stuff.
Has anyone ever noticed how whenever the developers add some new feature to a sequel that's designed to be a convenience, and you instantly have all of the elitists screeching that it's all a plot by the filthy casuals to take over the world? One random example: Fast travel. I for one don't want to have to spend all that extra time pointlessly wandering through the same area five times. Apparently it's hardcore to waste my time.
Another one: objective markers. Again, it's designed to cut down on aimless wandering and save time. Does anyone remember the minor quest in FO2 where you were asked to collect money from some guy, and you were given absolutely no other information? Where he is, what he looks like, that sort of thing. As it turned out, it was some guy that looked exactly like one of the other twenty identical NPCs wandering around the Den. The only clue you had was if you were to put your cursor over the correct guy, examine, and it gave a different description from the other ones. (He was labeled "You see: A citizen of the den" as opposed to "You see: An addict") Wandering around clueless isn't exactly "hardcore".
Feel free to speak yo' minds! In other news, there seems to be a lot of whispering around some Survivor 2299 thingie...let's hope it's fabulous!
On another random note, I feel like teasing something I plan on doing later in my story (and getting feedback on it now before I do it. Note: It's temporary!)
1 human + 1 baby dragon + 6 ponies + Magical Oopsie Wabbajack-esque thing = 2 humans + 1 fluffypone (not in the...conventional sense) + 1 fatpone + 2 semi-swappedpone + 1 pretty pony prince (It's not Isaac) + 1 adult dragon + shenanigans. Thoughts?
Rarity wants something from you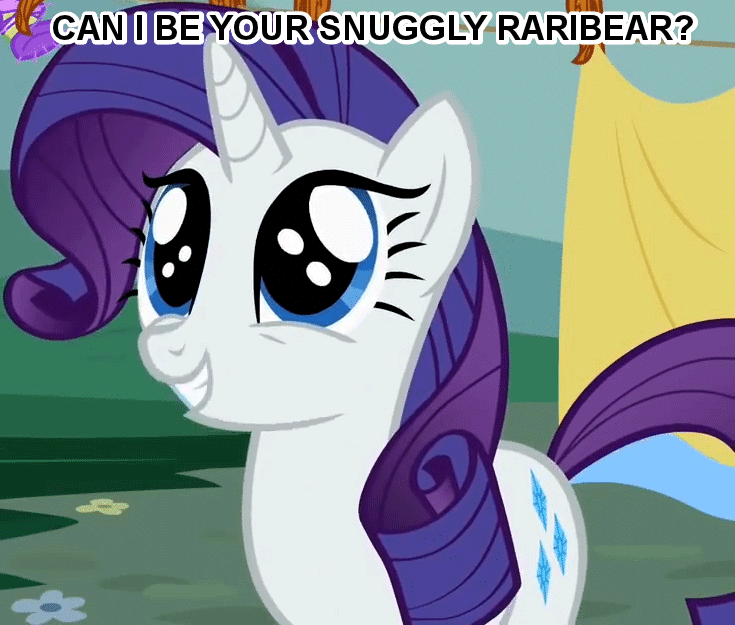 and have some fat!Derpy eating a muffin man.