Yeah, it's a Monday morning, and most of you have probably seen the episode, so I'll spare the whole play-by-play on my thoughts regarding it. I didn't hate it, but I didn't love it. I did like that mare from Whinnyapolis, though.
Who was the genius who decided to put a tree that causes dragons to sneeze in the middle of a populated city? I mean, granted, dragons aren't a common sight in the towns and cities of Equestria, but come on! They breathe fire. Have some random visiting dragon pass through Canterlot on a nice spring/summer day, and you have half the place caught up in a fire an hour later... well, Canterlot seems to be made out of a lot of stone, but I'm sure there's some flammable stuff in there somewhere...
As for Spike, I will say this, in the beginning, the episode was doing alright. He was trying to fulfill his duty to the best of his ability... buuuuut then it went downhill. I don't know, I get it, it was trying to throw the message of 'don't take advantage of having friends in high places, it might come back and bite you in the ass', but... I don't know, I thought Spike was beyond this kind of stuff. Then again, this is Spike. The show doesn't seem to know what to do with him sometimes.
I did enjoy Cadance's bits in the episode. One thing that I've noticed about her that's remained fairly consistent is that she seems to be fairly perceptive of things. Oh, yeah, her magic also terrifies me. Making crystals appear out of nowhere? Yeah... scary.
I don't know this episode had the chance to make it so much more than Spike being greedy and taking advantage of royalty, but it didn't. Part of me is fine with that, though; it'll just make me all the more happy when I see a story where Cadance offers to help tutor Spike on being a proper delegate for royalty so that, as the years go by. Seriously, the guy has a lot of potential as a delegate for Equestria to the dragons... if the dragons would even bother to care about foreign relations. All the same, though, it almost felt like Spike was set up to have things go to crap in a hand basket. He was just trying to help Twilight get some sleep.
Oh well, whattya gonna do?
Eh, well, at least we saw Cadance reveal her terrifying crystal magic that CAN SPROUT UP FROM ANYWHERE, LIKE, SAY A PONY'S SKULL, and Twilight was kind of adorable after three days of not getting any sleep. Just wish that Spike had been portrayed better, here. Can't win them all, I guess.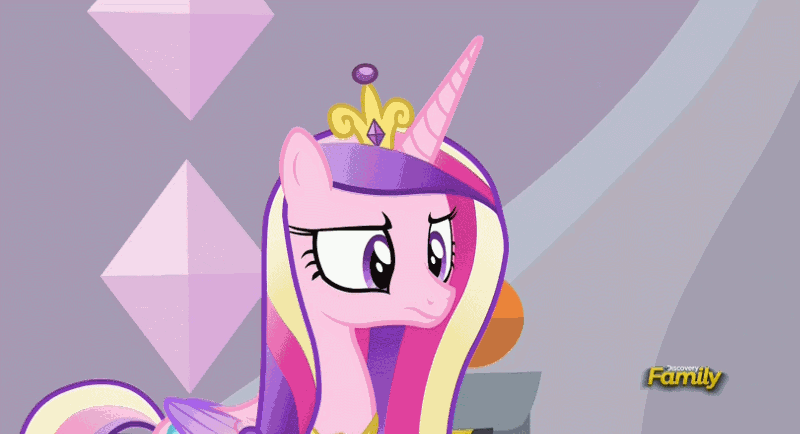 Be afraid. Be very afraid...
No, seriously, though, I already liked Cadance, but this episode? Yeah, she's got a hidden layer of badassery beneath that pretty visage of hers.