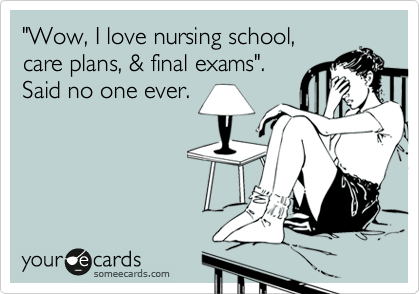 School has begun!
I do not want school back so soon. I had seven weeks off that were spent in hell more than anything else, and I am still reasonably checked out from the last semester.
But, despite my protests, accusations, lawsuits, and attempts to start Armageddon, it has returned.
I'm a Nursing Student, for those that don't know. I am starting my third semester, and one more after this one and I graduate with my associates as a Registered Nurse and then I can take the legendary NCLEX test, which is the national test. But, I'm getting ahead of myself here. Third semester is rumored to be one of the easiest semesters for the program, and I hope that's a true statement. Second and first are the hardest because they have to break you in and you learn 95% of your stuff in those semesters.
I hope this is easier, I hope things go well, that I do well and that I don't flunk out. My writing, ironically, might get better as I have a system of forced organization upon me and I can focus better.
Speaking of writing, ER250 is close to being done. There is a lot in there that I want to touch, some really fun stuff about characters, development - all might just be fluffy stuff, which Autumnschild is looking at to see if it can be told in a less fluffy way. After ER250 is complete, there is an option for one of seven stories to start, and two of them are ER250 sequels, four are original works, and the final is a story between the show and the Birthdayverse.
I don't know what I'm going to do. Might work on all of them until I can get a few completed, and then just hand out a steady update twice a week or something in 2015. Or, I might pick one up and update it as soon as a chapter is finished. I dunno. Right now, I'm still in the outlining phase of everything.
So, I hope everyone is doing well and I hope you have a great week.
- BL