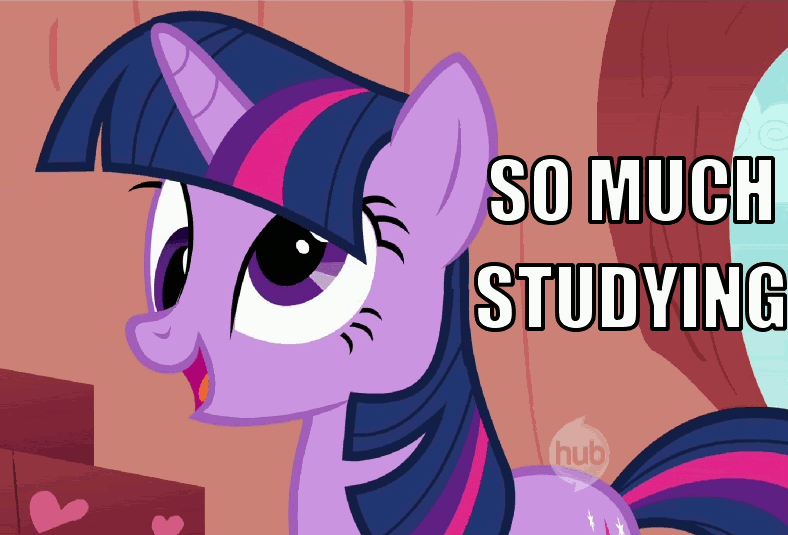 I hate school.
I'm nearly done with my semester, which for stupid reasons is considered to be the Spring Semester still. So, I am entering into finals week, have about five of them to complete. My rotations at the hospital are nearly done too. That means, as it has for the last few weeks, that any editing jobs I've taken up for various people, have been suspended until I get things completed, which should be next Tuesday... hopefully.
In that time, I am going to be working on my own stories, namely Chapter 8 of ER250. What's going on with that? Well, version one has been... upgraded into a version two, requiring additional writing and editing. Fantastic to have Autumnschild there helping me with it. He has this way of writing Applejack that makes it sound exactly like her. I don't think I've ever read another version of Applejack that has entertained me so much. Well, there is that story with Applejack secretly being a Changeling Queen. But his version is just spot on, so it's fantastic to have him on.
Not just on that either, but much of Chapter 8 has been part of his hand. Version 1 of it left a lot of loose ends, but in this chapter resolves just about everything in a nice, neat little bow. We have the Crystal Heart, Sombra, Rarity, Twilight, Luna, Blueblood, the Doctors, Commander Onyx, Captain Shining Star, a brief appearence of Sweetie Belle, and many others showing up in it. The Chapter is likely to be split, but I need to have the chapter completed before it is done. So Chapter 8 will most likely go live next weekend.
* * *
After school plans involves a ton of joyous dirt biking, crazy shenanigans, and embracing the Applejack side of me and working on the family farm. In that time though, I am going to get all of the editing done that I have set up, but also going to engage writing in four or five stories. I have a Airship/adventure themed story that takes place before season 4. The sequel to Empress Rarity's 250th Birthday. A very special collaboration project with Autumnschild. And then a Daring Do Origins story and/or (there's the four or five) a interesting, non-typical Trixie story of capes and magic.
Bachiavellian's Shoots and Roots was accepted by EQD, you can find the link to the story (and all the other stories I have edited for) on my user page. Delightful story with Carrot Top/Golden Harvest, and Derpy. That was the last major editing I've done. Everyone's favorite Princess Twilight Sparkle's 500th Birthday is also going under the knife, to see if it can get cleaned up and accepted on EQD. It had been submitted before, and was strangely rejected. So that's going to be on going as well. the success at Shoots and Roots getting in made me want to try to get PTS500 in. Tempted to try and get ER250 in there now as well... but I did break down and cry like a little filly when ER250 was rejected from Twilight's Library. Hmm, crossing that off now.
Anyways, that's life and mah plans. Hope everyone is doing well. Anyone got awesome plans for this summer?