So I have some good news for all you Color's readers. initially I have intended to post 3 chapters in a short sequince of one another, but after lots of consideration and thinking, I decided to change a particular bit of plot progression out of chapter 25, and into chapter 26.
With that done, I now had a finsihed chapter just sitting around, so I figured. "I may as well post this. I have no reason to withhold it any longer."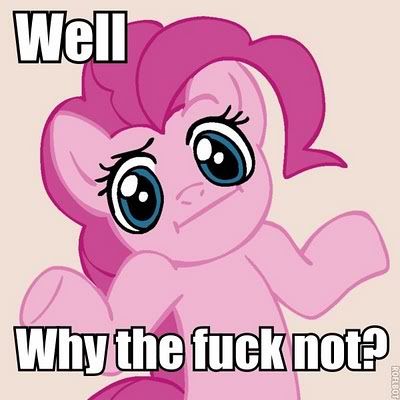 With that said, Color's 25 is off to the proofing team as of now. So you can expect to see it published soon™.
...Gee, it's been over a year since I updated colors. So much in my life has changed in the past year and a half it is ridiculous. I'm just thankful to be back on track, and hopefully continuing to post chapters in a more timely manner.
In the past 48 hours I've written over 4500 words between Colors, Researcher Twilight, and my EQG oneshot.
Speaking of the oneshot, it's looking to be kinda big... BUT IT'S STILL A ONE SHOT! At almost 3/4th's done or so, it stands at a whopping 8500 words. I expect it to likely break 11, possibly even 12k before I am finished. Now I could break that down into multi-chapter segments, but how I am writing it, it is very linear; without any build up to a pause that you'd normally see for chapters in a short story.
So yeah... you guys will be getting a massive slice of life onesie here soon.
Again I'll point out it is rated mature, and has a sex tag. However the day I write erotica for the sake of erotica is the day I quite writing. I don't like to read what is usually branded as "Clop" so I'm not about to write it. I prefer "Mature Romance and/or Intimacy." Which is what I promise to deliver.
I gotta keep things classy, ya know?
And lastly, Researcher Twilight. I'm not making as much progress as I would like to, but that is mainly because I really want to finish this oneshot so my focus is only divided between Colors and ReTwi once again.