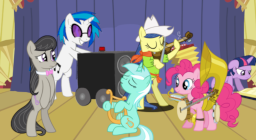 Romance
Comedy
Slice of Life
---
Octavia has finally been promoted to first chair, unfortunately for her, that chair is in the new (and as of yet unformed) Royal Ponyville Orchestra. Now, the best cellist in Equestria (Her words) is being sent to the cultural gulag of Ponyville (Also her words) to form and lead the Royal Ponyville Orchestra to greatness (Princess Luna's words).
Now has a sequel, Princess Luna's Academy of the Arts and Sciences.
And an online reading.
Credit goes to jlm123hi for arranging the cover art
Vectors used: