Story images with spoilers from the leak are not allowed.
[hide message]
Sequels
1
Da Sa Tr She betrayed us. She mislead us. She imposed her rule upon us. We rose in defiance. Sequel to The Monster We Made · Corah Il Cappo

20,195 words · 5,835 views · 739 · 58 ·
Da Sa Tr She betrayed us. She mislead us. She imposed her rule upon us. We rose in defiance. Sequel to The Monster We Made · Corah Il Cappo

20,195 words · 5,835 views · 739 · 58 ·

Ad Da As Twilight Sparkle enters her third year amongst her friends in Ponyville, she finds herself plagued with strange dreams of an unknown power whispering dark secrets to her. What is this voice, and what does it plan for the most faithful student? · Lapis-Lazuli and Stitch

55,728 words · 10,569 views · 730 · 19 ·

Ad Da Sa Twilight Sparkle finds a new powerful kind of magic. The question is, does she control it or does it control her? · ChaoticHarmony

45,437 words · 11,000 views · 674 · 39 ·

Al Tr Words and actions can sometimes hurt more than we know, sowing betrayal and hatred where friendship and innocence lies. A single thoughtless action can be a tipping point, one fallen domino setting off hundreds. Look back, and answer me. · cloudedguardian

9,956 words · 9,528 views · 765 · 24 ·

Ad Da Sa When the Queen of the Changlings takes her revenge on the ponies, will Twilight be able to stop her? Or, more importantly, will Twilight be able to stop herself? · Listener

31,321 words · 8,672 views · 681 · 40 ·

Al Th Power is no good if not controlled. A training session between Twilight and Luna escalates into something it should not have. · Kapuchu

7,332 words · 7,064 views · 685 · 21 ·

Al Da Desperate to save her friends, but not desperate enough to surrender her alicorn magic, Twilight makes a dangerous gambit against Lord Tirek. · Cerulean Voice

3,353 words · 11,035 views · 894 · 66 ·

gore

·
Da Sa Celestia left the public eye of Canterlot to be alone with her beloved, Twilight Sparkle. All she ever wanted could finally be hers. Together in love within her sanctuary, Celestia attempts to have a perfect day with Twilight. · OmegaPony11

3,078 words · 5,960 views · 463 · 12 ·

Da Sa Tr Celestia must do the unthinkable to save herself and Equestria, but what will Twilight think of her? · Macon Mixx

3,526 words · 5,181 views · 259 · 6 ·

3,345 words · 32,485 views · 2,597 · 87 ·

Al Da Sa Tr Twilight never became an alicorn princess and instead lost her life as a result of Star-Swirl the Bearded's unpredictable spell. But being dead doesn't prevent Twilight from visiting those she cares for... · Doctor Perseus

8,615 words · 9,476 views · 919 · 15 ·

Da Sa Tr Equestria and all that lived in it are dead. But there is a group of ponies who can't die because they are immortal, and they yearn for death... But which would you rather, finally dying, but for a price, or living forever with the ones you love · pepdog1

1,925 words · 912 views · 18 · 7 ·

Ad Da Ro Sa Tr I walk this lonely road. My friends, my family and everypony else is gone. The only thing left are the creatures. I am Twilight Sparkle, and I'm a survivor · aKaPinkiePie

2,434 words · 1,440 views · 55 · 5 ·

Al Da Sa Tr They used to love her. Her name was one of respect, one denoting a being whose very actions have saved the land multiple times. She once had a bright future before her. Now all that is before her is a crowd, crying for her death. · The Pink Mugsy

23,978 words · 10,821 views · 941 · 180 ·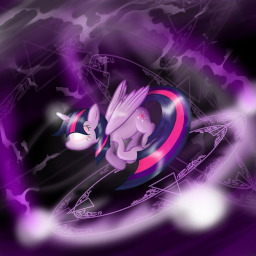 Dark
Sad
Tragedy
---
We trained her.
We taught her.
We raised her to godhood.
She brought us down to earth.
Sequel can be found here: Memoirs in Ink and Blood