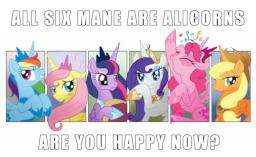 Adventure
Alternate Universe
Comedy
---
Anyone could see it coming: Alicornhood. Now Celestia and Luna have a new job for the Mane 6: To move the Great Plan forward, they must go out and track down all the other alicorns that they believe are manifesting all over Equestria.
And by the way, Luna thinks it might be a good idea if they focused first on finding an alicorn stallion or two...
Now has its own TVTropes page!
A sequel to "Parting Words."