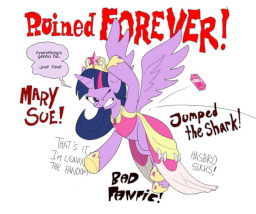 Alternate Universe
Comedy
Slice of Life
---
It happened. Twilight became an alicorn. Her mentor Celestia has never been prouder, her friends are amazed, her daughter Nyx is thrilled to death-- And both Twilight and the government are in a tizzy. By Equestrian law, she is effectively a princess. This is complicated by the fact that she's the adoptive mother of the former Nightmare Moon, and nopony is precisely thrilled at the notion of Nyx being within reach of the throne.
It's further complicated by the fact that Twilight doesn't want to be a princess. She's a scientist! She's a researcher and a scholar of magic, not a ruler. If she takes her throne she'll have to give up the very things that put her on it in the first place--- her research, her beloved books, her home in Ponyville, her ties to her close friends, and if certain factions have their way, her daughter Nyx.
She's going to have to put up one hell of a fight to wrangle a compromise between the life that she wants... and the destiny that somepony else picked for her.
Nyx is from Past Sins by Pen Stroke-"This story is an unofficial sequel/side-story to Past Sins by Pen Stroke"