<
The house was dead quiet apart from the slight buzz coming from my electric lamp. Both my parents were gone, off to some dinner thing, and my older sister was sleeping over at a friend's house. Of course, that was the best time to read scary stories, especially since it was night time and the only light in my room was the desk lamp in front of me. One of my friends from school had dared me to read stuff about this Slenderman thing, he told me that I couldn't read it without being scared. I told him challenge excepted. So then I went to the local library and asked the librarian-Twilight Sparkle-if she had any books about the Slenderman. After a bit of searching, she managed to find a book just titled Slenderman Fact or Fiction?. It wasn't very big, around one hundred pages, but with small print and pictures. It was perfect. Now, in front of me was this book, illuminated by the small light. Alright, I thought, Lets do this.
The cover had been a picture of a tall, thin thing which stood on two feet and not hooves. It didn't look at all like a pony, and the closest thing I could compare it to was if a serpent and dragon combined. That's about as close as it would get. It had two claws, and it seemed to be wearing a black... business suit? And red tie. But the most eerie part was its face. Instead of a mouth, or eyes, or even a nose or ears, this thing had no face whatsoever. Just a round, pale blotch. It sent the chills down my spine. After reading for about half an hour, I summed up a few things. This thing seemed to abduct ponies that knew about it, or had seen it. It would slowly drive them insane, then take them away and they would disapear without a trace. Also, Slenderman liked the woods. Its branch-like limbs blended in well with the trees, making it hard to see among the forest. In the pictures the book showed, you had to kind of look for it. You never saw it in front of the camera, but rather in the back round, hidden among the trees. One of my favorite photos-and when I say favorite I mean creepiest-was one of a blue mare, with a braided red mane. She was smiling at the camera, and it the backround you could see a swingset, and behind that you could see a pair of legs and hands. It also had a caption.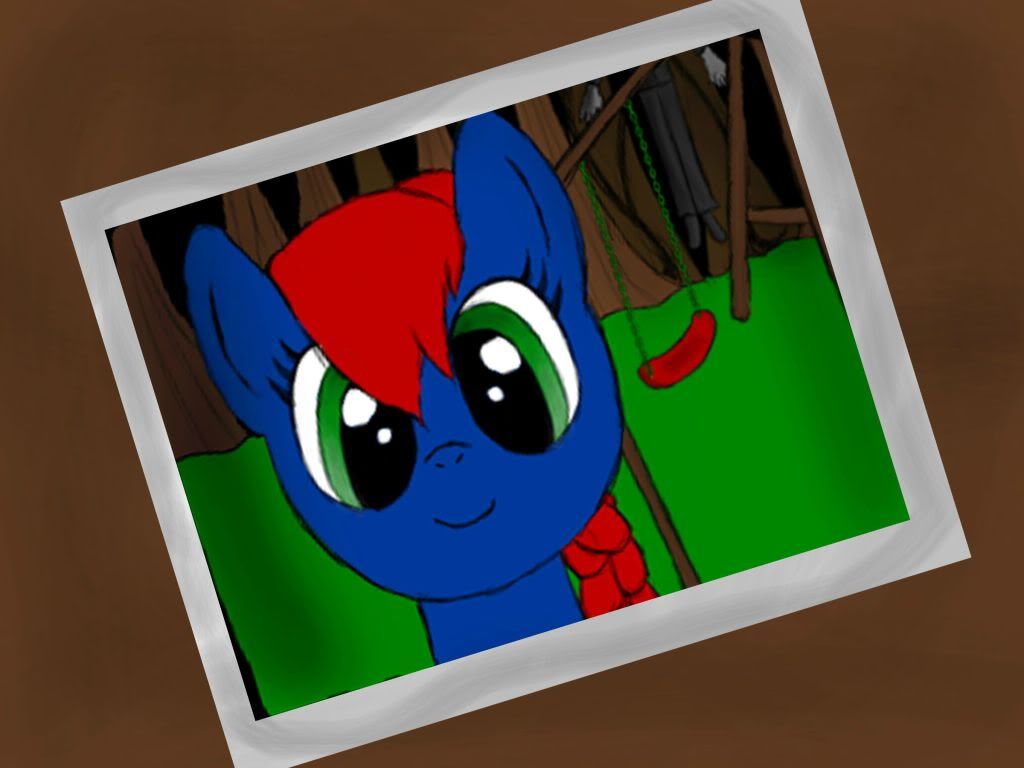 April 5, 2008. A little filly by the name of Lily goes missing. The picture above was taken by the filly, of her big sister, Sapphire. Apparently, Sapphire told her mother that something in a black suit got Lily-her mom wrote it off as stress from loosing her little sister. Sapphire went missing the next day.
The last line sent chills down my spine. What made the whole thing even creepier for me was our home was just a few hundred yards away from the Everfree Forest. In fact, if you looked out my window, you would be able to see a line of trees in the distance. When I looked out, it was much too dark to see anything. The night was moonless and the stars didn't provide any light. I closed the book and put it on my book shelf. I began to regret reading it, because now I had the ever growing sense that something was watching me. Of course, it was probably just paranoia created by the book. That still didn't make me feel better. I sighed, and took out a Daring Do book I was reading. It would take my mind of this Slenderman thing.
It didn't. I couldn't focus, with images of the blank face just starring at me, watching from the shadows... always watching... I gave up on trying to read and just sat there, thinking. This thing couldn't be real, right? Right? I looked out my window, and saw the rows of trees. Nothing could be hiding in them, right?
thud
thud
thud
The sound of soft footsteps suddenly came around, startling me out of my thoughts. Someone was coming up the stairs.
"M-Mom? D-Dad?" I called uncertainly.
thud
thud
thud
It didn't stop. There was no response. Fear was already clutched at my chest. No, no, no, it's not Slenderman. It can't be. I thought. Maybe somepony had broken into my house...?
thud
thud
thud
...
Whoever it was had reached the top of the stairs now. Across the hall from my room. I jumped up from my chair and leaped to the door, locking it. My heart pounded in my throat, I felt like I was trapped like an animal. I turned back to my desk and sat down, putting my face in my hooves. The footsteps hadn't continued, maybe I was just imagining it? Then I heard my door swing open as if it were never even been closed. I didn't dare turn around to face whatever was it my room. I kept my eyes forward, focusing on the wall in front of me. Something was in my room. I stayed frozen, not moving a muscle. I could feel its presence, practically seeping the light out of the room. Don't look. Don't look. Don't look. I though to myself. On the very edge of my vision I saw a pale claw, reaching out for me.
I squeezed my eyes shut, my heart beat so hard I swore that thing could hear it. The only sound was my ragged breathing. For a moment, time seemed to stand still. Then I felt something touch my shoulder. I was stupid. I opened my eyes, and turned. Behind me was the Slenderman, just starring down at me. I looked into it's stone cold face, and knew it was looking. It had no eyes, yet I could feel it watching me more then anything else.
I screamed.
Everything
Went
Black
"Drifter?" I awoke to the sound of my mother calling my name from down stairs. My head was on my desk, I had fallen asleep. I smiled to myself, just a nightmare. Slenderman isn't real, it was just a nightmare.
"Drifter?" Mom called again.
"Yeah?" I called back. I laughed. I was alive, it was all just a stupid dream.
"Why is the door to the backyard open?"
Author's note: I may or may not continue this, it was supposed to be a oneshot but if enough people want me to, I can continue.