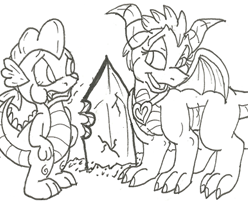 Adventure
Comedy
Crossover
Romance
---
(Spyro seriesXmlp) Spike's always been curious about his race, but then again, what dragon wouldn't be when all they've ever known is ponies? So when a spell book arrives that may offer some answers to his questions, with a little help from Twilight of course, the young dragon is overjoyed to say the absolute least.
However, a problem arises when things somehow end up going astronomically sideways, and Ponyville finds itself playing host to three unexpected visitors; three scaly visitors by the names of Spyro, Cynder, and Ember to be exact, each bringing their own personal matter of chaos to the small town.
Soon, awkward and unusual situations arise, tempers flare with destructive consequences, personal demons threaten to rear their long suppressed heads, and Spike learns that sometimes, if you wait long enough, love will find you.
Inspired by this piece of fan-art I found (not mine) featuring Spike and Ember, and the short comic 'Spyro's back'