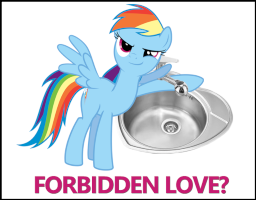 Romance
Random
---
Rainbow Dash was just cruising through life, one cupcake at a time. However, after a freak encounter in the kitchens of Sugarcube Corner, the pegasus finds herself faced with something she's never encountered before: love.
However, this is not your average love story. For you see, the object of her affection isn't some handsome stallion with a windswept mane and gorgeous abs. No; her love is a sink.
Now, Rainbow must face the challenges that come with love, all while learning to deal with strange urges, teething children, and dresses.
----
Yeah...
A big thanks to Golden Vision and Pav Feira, my editors! This fic would be awful without them!