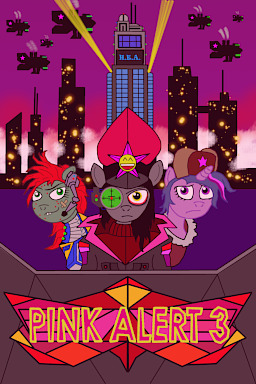 Gore
Adventure
Alternate Universe
Crossover
---
A crossover of Friendship is Magic and the Command and Conquer: Red Alert 3 game. Sounds awesome, no?
It is a dark, violent chapter of Equestria's history. A terrible rebellion has left the nation in ruins, and its godlike rulers, the Alicorn Princesses, have 'solved' the issue of discontent by transforming the land of ponies from a green, idyllic utopia to a brutal, industrial dictatorship. But not for long, it seems, because on the horizon, a familiar threat is looming.
From the icy wastes of the Frozen North, the Holy Equestrian Alliance is invaded - by its oldest and most powerful enemy, the Soviet Pony Republic and its mysterious leader, the Pink Lady, mother of revolution and the belief that all ponies should be equally loved. The clone legions and mighty tanks of her her Pink Army grind across the continent, chewing up all in their path - but opposing them are the Allied Forces, the most technologically advanced warriors in existence, and Equestria's invincible air force of power-armored jet Pegasi, among other juicy flying nasties that the Alicorns have in store for their communist opponents.
The two armies are equally matched, and only the brains and cunning of their leaders can achieve some kind of victory for either side. Leaders like Commander Squeezie Heart, a short, paranoid and chronically sleepless Pink Army officer who'd much rather be looking after his older/younger sister Tickles than killing others, but hey, even the smartest ponies need jobs. He wants to win the war for the Soviets as fast as any of his Comrades, but he alone holds a terrible fear: that the war will not be between just two armies for long. Because, far to Equestria's east, in the depths of the great oceans, the sea ponies of the ancient Aquestrian Empire watch with interest as the western barbarians weaken one another - and slowly assemble their own armies of transforming robots, submarine battleships and cyborg assassins.
Whoever ends up fighting in the coming battle, only one faction will triumph, and for the rest of them, well, things will probably suck a lot. For now, heroes on all sides can only do their best to stay alive - and perhaps, a few of them will survive long enough to make choices that could change the course of pony history. It's either that or they all die horribly, really. War sucks for everyone involved, but as the Pink Lady herself says, if you can't have fun doing something, then you sure as day aren't doing it right.
Clearly then, Commander Heart is the worst pony soldier in equine history. But, is he really that bad? His enemies, for starters, are just about to find out.