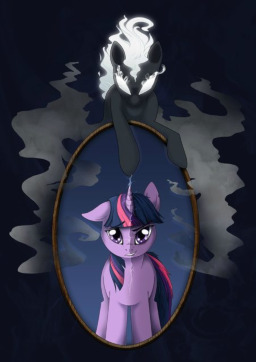 Dark
Adventure
Alternate Universe
---
After doing some research into the history of Alicorns, Twilight finds a dead end. When she chooses to pursue it against Celestia's wishes, she finds herself entangled in a messy history that some want forgotten. An Alicorn's position comes with sacrifice. And when given power, one will always be in want of more...
A complicated explanation for the history and intricacies of the My Little Pony universe. If you're reading this, be ready for the long haul.
CURRENT FUNDRAISER: http://igg.me/p/inner-glory-publishing-round-2-electric-boogaloo/x/2635860
A rewrite, or rather, the heavily revised and actually worth reading version of The Struggle for Power, my earlier work. Think of that as an alpha build, and this as the "released-to-the-public" program.
http://www.equestriadaily.com/2011/05/story-struggle-for-power.html