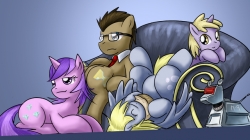 Comedy
Crossover
Random
Slice of Life
---
This story is a sequel to
Can I Come With You?
---
Wake up, clean the TARDIS, have some tea, get chased by Daleks, have more tea, lose the Vortex, make muffins, find the Vortex, eat muffins and tea, blow up the planet. It's just another day for the Whooves family!
...Oh, and Carrot Top has NO idea what's going on. Just saying.