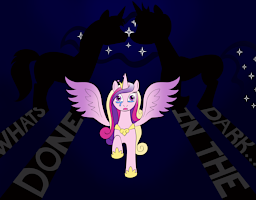 Source
Dark
Drama
Romance
Sad
---
This story is a sequel to
Phases of the Moon
---
No sin can remain buried forever.
Shining Armor believes that his troubles are over; his beloved Cadance is soon to give birth to their first foal and his affair with Princess Luna has cooled off considerably as her own pregnancy enters it's last stages.
Princess Luna is at the end of her rope; Shining Armor still has no idea that he is the father of the foal growing inside her and his clumsy gallantry is making her genuinely fall in love with him.
One elated, the other tormented, the pair of sinners will soon be faced with one of the unquestioned absolutes of the universe...
...what's done in the dark will be brought to the light.
Cover Art by the tremendous Swirling Line.