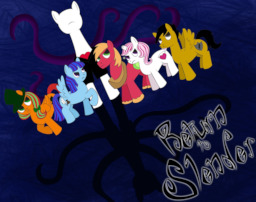 Source
Adventure
Dark
Horror
Romance
Thriller
Tragedy
---
This story is a sequel to
Slender
---
Equestria is ruined. The Slender One's reach cannot be escaped and now the populations of entire cities have disappeared, vanished without a trace.
Even the princesses have left the ponies to their fate.
Big Macintosh returns to Ponyville with a team of like-minded ponies and one goal in his mind; to stop the evil once and for all.
Cover art by Swirling Line, of course.