Search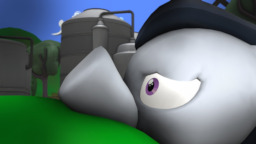 Sex
Adventure
Dark
Romance
Sad
Thriller
---
As the Cutie Mark Crusaders are heading over to Rumble's house, they get captured by fillynappers and are forced to work for their bidding while also being forced to be a certain colt's own toys to mess with. However, one colt is not having any of it and he's ready to take back what isn't their's.
Adventure
Alternate Universe
Dark
Mystery
---
After a failed attempt to finish a spell that his friend Star Swirl the Bearded left him after he died. Cerulean found himself cast into the void where he would spend a little over a millennia stranded until he was once again thrown into Equestria.
When Cerulean was cast into this Void like place he no longer had a concept of time. There was nothing just a pitch black abyss that stretched on forever, that was until a light appeared in the darkness. It started out small but gradually grew in size until he found himself on the outskirts a small town. He has no recollection of ever seeing this town, nor does he know how long it has been since he has seen anything but the pitch black of his prison.
Now with no idea what has transpired since he left he must find his way in a new Equestria after a little over a millennia of progress and history.
Source
Adventure
Alternate Universe
Comedy
---
War. Adultery. Intrigue. Famine. The metaphysics of magic. Moral shades of grey. No good choices. Tragedy. Suffering. Despair. Nihilism. Existential meanings.
Twilight Sparkle navigates a world in which life in Equestria does NOT shimmer: the world of babby's first epic, subversive, gritty, genre-bending adventure story.

2nd Person
Adventure
Alternate Universe
Human
---
Twenty years before the release of Nightmare Moon from her prison, Anonymous is locked in a deadly dream battle with her. This all comes about when Nightmare establishes a strong dream connection with Equestria after five-hundred years of concentration and learns of a creature named Anon. She also learns that he holds the key to more power and evil knowledge then anything Equestria has ever seen and she wants that knowledge for herself. Join us, as we see this epic battle for the knowledge that should never be in Equestria. Enjoy the nightmare that comes.


Adventure
Mystery
---
After the disappearance of Rainbow Dash during a Wonderbolts training exercise, Equestria flew into a frenzy, looking for the missing mare.
At Twilight's request, Daring Do has also aided in their feeble attempts at finding the dynamic Element Bearer. With Tank in tow, Daring Do explores the mountainous regions of Canterlot, where she stumbles upon a legend once known and now long forgotten… yet closer to home than ever before.
---
A Prelude to The First Wonderbolt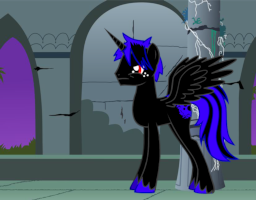 Sex
Gore
Adventure
Dark
Mystery
Romance
Thriller
---
A mysterious Alicorn arrives in Ponyville from the depths of the Everfree Forest. Who is this strange pony that no one has seen before? Where did he come from? This story tells the true story about what really should have happened.
This is my first story on here so be nice!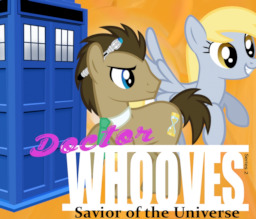 Adventure
Alternate Universe
Crossover
---
This story is a sequel to
Doctor Whooves: Savior of the Universe - Series 1
---
While on a mission to save Manehattan from electical aliens, The Doctor meets up with Ditzy Hooves, who decides to travel with him through time and space, now they must fight off monsters and evil aliens to protect themselves and anyone they come across.
[Derpy is called "Ditzy" because, I dunno, it sounded better]
[You might not understand who some of the characters are if you don't read series 1, keyword is "might"]
[TARDIS vector made by DrawPonies (i believe) on Deviantart, character vectors also not by me]
[The Doctor on the cover is innacurate, but I didn't find a better picture nor was I able to edit one]