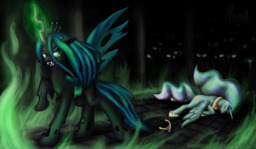 Source
Sad
---
It had been a fall much longer than a few feet. It had been a fall from divinity. That crucial blow had damaged so much more than just her horn. It had shattered her reality. When a kingdom beckons and a queen prepares for battle, how do you pick up the pieces?
Three weeks after the royal wedding in Canterlot, the sun hangs pale and dim in the sky above Equestria. Luna captains the royal guard while Shining Armor is on his honeymoon, and she governs Equestria while Celestia wanders the castle grounds both day and night, searching for answers only she herself can provide.
Meanwhile, veiled by lies and deceit, a shadow looms over Equestria once more, determined to sink its fangs into the most loving kingdom of all.
Many thanks to Sergiovan!
He does all the readings. Proof, pre, post, alpha, cake and exclusive reading. He also edits, leaves feedback, is a bank of ideas, is a great present for children and adults alike, and comes with his own food and incorporated microwave.
And many thanks to Leonhard too!